Walking School Bus Offers Active Option for Students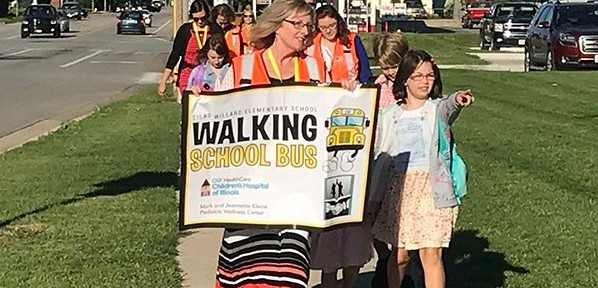 In Community Heart & Soul city Galesburg, Illinois, schoolchildren are discovering an active alternative for getting to school. Since September, elementary school students have had the chance to get on board the Walking School Bus instead of riding the bus or getting chauffeured to school by their parents.
The idea came out of the Galesburg on Track Action Plan, which was finalized last winter. One goal in the plan is to create more activities for youth. So the members of the Heart & Soul Stewardship Team took the lead and got the Walking School Bus rolling—a great example of how motivated volunteers can transform an idea into an action!
Fire Chief Tom Simkins and fellow Stewardship Team member Sam Jarvis promoted the Walking School Bus idea because it encourages exercise and outdoor activity, rather than sitting in front of a computer or phone screen. Simkins corralled approximately 40 volunteers from numerous community organizations, including a local hospital and the city's chamber of commerce, to participate.
Every morning, weather permitting, the students escorted by volunteers clad in orange vests join the group at two pickup points and wind their way through the neighborhood to the local elementary school, a distance of a half mile. About 25 students participate on a weekly basis.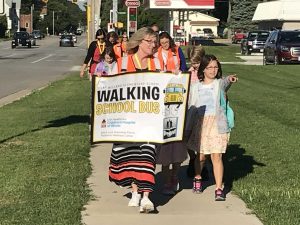 The Action Plan is based on eight Heart & Soul Statements that were drawn up by the community after the Heart & Soul Team led extensive resident engagement that was focused on aspirations and hopes for the city. One of Galesburg's statements is "We value having things to do." The Action Plan picked up on that shared sentiment and emphasized youth in particular.
"Anything we can do that stimulates something that speaks to our value statements through action, that's what we're about," said Simkins, who coordinated the program.
Volunteer Sara Robison noted the program has brought children together who previously did not walk to school. That included younger students whose parents felt concerned about letting their children walk to school unsupervised.
"I really feel (the Stewardship Team volunteers) are putting their very best effort into attempting to bring all parts of the community together," Robison said. "We're seeing the Action Plan in action through this program."
The Walking School Bus is scheduled to run through late fall and start up again in spring. Simkins hopes to grow it into a district and countywide program to last for years to come.
Rebecca Susmarski is a writer based in Galesburg, Illinois.