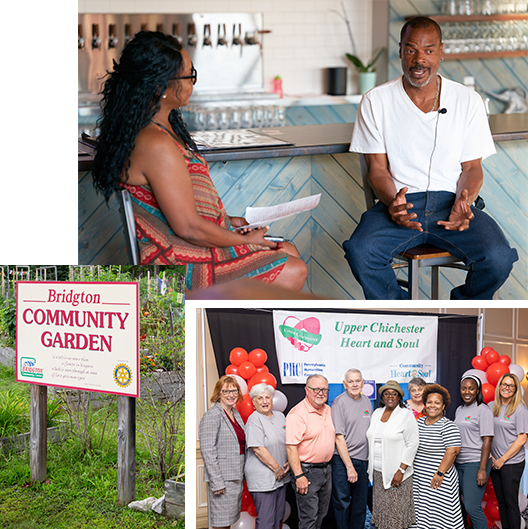 What is Community Heart &
Soul?
Community Heart & Soul is a resident-driven process that engages the entire population of a town in identifying what they love most about their community, what future they want for it, and how to achieve it.
Developed and field-tested over a decade in partnership with over 100 small cities and towns across America, Community Heart & Soul is a proven process for engaging a community in shaping its future.
How it
Works
Community Heart & Soul is an ongoing practice that provides municipal officials with a clear understanding of what matters most to their constituents–all the residents–and forges a partnership that builds on the first thing everyone has in common: they all live here. It's not a report that sits on a shelf; it's a way of coming together to make your town a better place to live in and visit.
Community Heart & Soul begins with a four-phase, step-by-step process that brings residents together to identify and honor the unique character of their town and the emotional connection of the people who live there.
"The Community Heart & Soul model has been the perfect fit for my organization as we work to strengthen rural Iowa communities. I've learned so much about community engagement, helping emerging leaders, and developing authentic relationships with people in our small towns."

— Jason Neises, Certified Coach Community Foundation of Greater Dubuque
Phase 1: Imagine
Heart & Soul teams are formed to build awareness, interest, and commitment in all segments of the community.
Phase 2: Connect
Stories are gathered from residents, leading to the development of Heart & Soul Statements that identify what matters most and reflect what they love about their towns.
Phase 3: Plan
Residents develop action plans to guide future town planning based on their Heart & Soul Statements.
Phase 4: Act
Heart & Soul Statements are officially adopted by town and city councils, incorporated into comprehensive and other plans, and are used to guide future policies and decisions.
The real work of Community Heart & Soul gets underway upon completion of the 4 phases. That's when Heart & Soul teams put into action the plans they developed based on their Heart & Soul Statements.
Chelsea, Maine is a small town on the eastern bank of the Kennebec River. It was incorporated in 1851, separating from a portion of Hallowell. When the town asked for community input to shape revised ordinances and future planning, only a few residents participated. Town leaders recognized the need to try something different to foster genuine community engagement and began Community Heart & Soul in 2019. Chelsea Community Heart & Soul is a program that is driven by the residents of Chelsea, Maine and they are busy in their ongoing practice of keeping their Heart & Soul statements at the forefront of their decision making in the community.
Chelsea Heart & Soul, Maine
Planning
Chelsea will use the data from Heart & Soul to help inform a Comprehensive Planning process in the future. The town has never had a plan but this information will be a good place to start initial efforts.
Access to Nature
Many residents were unaware of the town-owned parcel Butternut Park, on the banks of the Kennebec River. Grant funds helped provide a new bench and picnic area for the park.
"I love the democratic process and I love that everyone shapes and molds their communities by giving an opportunity for growth to happen. Everyone just wants to be happy where their home is."

— Christine Landes, Chelsea, Maine Town Manager
---
Community Heart & Soul
Towns
From Downeast Maine to the Heartlands to the Pacific Northwest, towns and residents are making change in their communities. Click on the map to see where it's happening and hear their stories. Let us give you a guided tour through the transformation with Community Heart & Soul.
VIEW TOWN PROFILES