Three Towns. Three Challenges. One Solution. Engage Everyone.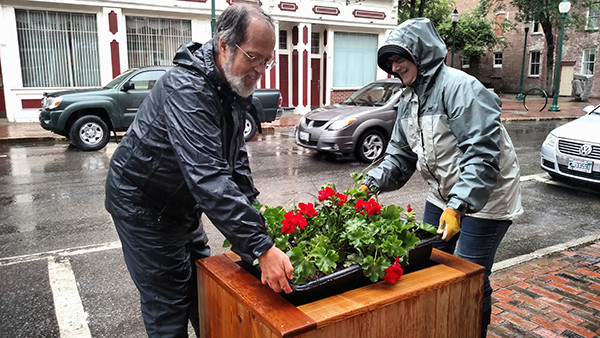 The February issue of Colorado Municipalities magazine featured an article on Community Heart & Soul® and its impact in three communities–Cortez, Golden and the North Fork Valley. Each faced different challenges and all found that engaging residents made their communities stronger and more cohesive.
Reprinted with permission.
HEARING FROM ALL RESIDENTS LEADS TO BETTER TOWNS FOR ALL
By Alece Montez-Griego, Director of Programs, Orton Family Foundation
WHEN HIGHWAY 491 IN CORTEZ was slated for repaving by the Colorado Department of Transportation (CDOT), municipal officials saw an opportunity to turn an eyesore entryway into a welcoming gateway. The project happened to come up at the same time the City was busy engaging residents in Cortez Heart & Soul, which was the name Cortez chose for its Community Heart & Soul® project.
Developed by the Orton Family Foundation, the method brings a broad range of residents together to determine what they most value about where they live. Cortez's story and the stories included here from other towns illustrate the power of resident-driven plans and action that is rooted in what matters most to them — in other words residents' "heart and soul."
In Cortez, improving the appearance of downtown was one of those priorities. The Colorado Department of Transportation's plans for South Broadway, as Highway 491 is called within municipal limits, did not align with what residents envisioned.
"The design was completely counter to what the Heart & Soul Team had been hearing from residents. I called it doubling down on ugly. We had this really ugly entrance. CDOT's initial plan was to patch these old medians, and make them look like a calico cat that they would not touch again for another 40 years," Cortez City Manager Shane Hale said.
The city council responded by allocating $650,000 to begin making changes downtown, no small amount for a municipality of 8,600 residents. Working with a design team of landscape architects and civil and traffic engineers, the City held several design charrettes with the community. Additionally, the Cortez City Council broadened the initial design to include several streets in the downtown core, ensuring that Cortez had a cohesive plan moving forward.
Knowing support existed among residents made the city council and the planning department case even stronger. Cortez approached the state with designs by the community and pushed for what they wanted. In the end, tired and broken concrete was replaced with drought-tolerant plants, trees, and shrubs. Unsafe streetlights were updated through a partnership between the City and Empire Electric Association. Following the project, two new businesses were built on vacant lots, welcome additions that countered the tide of development that had previously occurred only on the east side of town near Walmart. Getting CDOT to allow Cortez to codesign the highway was groundbreaking.
There was another groundbreaking aspect of the project — the role that the Ute Mountain Ute tribe played. Key tenets of Community Heart & Soul are to involve everyone and reach people whose voices had been missing. The City saw one element of the project as a chance to involve the tribe, including a missing voice and bridging a historical divide. Design of the welcome sign was given over to the tribe, as this is its entryway to Cortez. All of the design work was conducted on tribal lands, with very little input from city leadership, which was intentional. The significance of this went beyond the signage. Having communication with the tribe allowed the town to be aware of and honor the local culture and traditions. One tribal member said that because of Heart & Soul, the tribe and city met in a way that had not happened before, providing the opportunity to talk about  historical traumas and marking the start of a change in the relationship between the two.
What happened in Cortez illustrates how community engagement lifts up a community. Engaging residents helped the City establish priorities and push for change. The result was a gateway that attracted visitors and businesses and began a better relationship with neighbors. Involving a broad representation of residents and identifying what they love about where they live helps communities chart a course that leads to a better quality of life for everyone. Cortez is a good example of that. Here are other examples of Colorado towns that strengthened their communities in different ways through Community Heart & Soul.