How Heart & Soul Taught City Council Candidate a New Way of Listening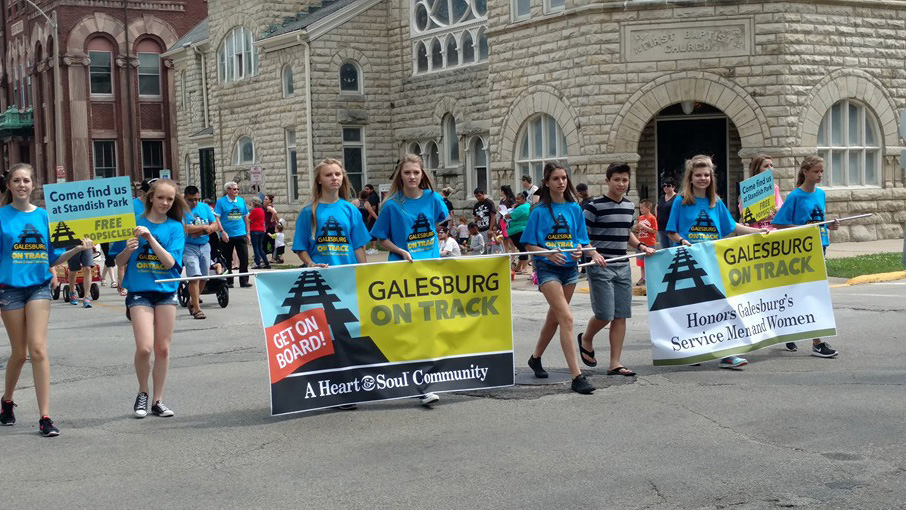 Last spring, lifelong Galesburg, Illinois, resident Chris King decided to run for city council. She credits the town's Community Heart & Soul® project for both preparing and inspiring her to seek public office for the first time.
King's road to running for office began about two years earlier, when she learned about an initiative called Galesburg on Track, a Community Heart & Soul project in the town of about 32,000. She was skeptical at first, but attended a meeting of the leadership team and read up on the model. Community Heart & Soul resonated with her.
"In a lot of initiatives, people try to start from the top down," King said. "This is entirely different. It's a grassroots movement, so it's getting the people at the bottom of the pyramid involved, and it kind of travels up the chain. Eventually it feeds into the top of the pyramid where we're all a huge community working together. It hands a microphone to people who don't typically get a microphone handed to them, but it also helps bridge gaps that you see a lot of times in communities."
King, who is 23, joined the Galesburg on Track leadership team and helped chronicle the opinions of community members regarding their hometown. Sometimes King talked with residents about things from their past that they rarely told anyone else, or discussed issues in Galesburg that residents believed needed to be remedied.
Along the way, King learned "a new way of listening" that she would later incorporate when she ran for alderman. She would hear what others said and perform a bias check of her own thoughts before she would respond, to ensure she would understand the other person's perspective without subconsciously trying to convey her own. The check allowed her to objectively collect stories from Galesburg residents of all demographic groups.
"We talk to each other, but do we really listen?" King asked. "That's the key to Heart & Soul®. It isn't just talking. It's so intricate, and it's something so simple that we just don't do as often as maybe we should."
Meanwhile, local election season came around. King had long seen a need for a young and minority perspective on the city council, but figured she would run for office at another time in her life. Her work with Heart & Soul, however, motivated her to alter that timeline.
"I heard a lot of things when I was either going door to door talking to people, getting them to fill out cards, or at events where we were collecting stories, and I was like, 'Wow, if we had new leadership, maybe we can get these changes going,'" King said. "I was worried that if we didn't have forward-thinking people on our council that things maybe wouldn't change, and that all of the work we had just done with Heart & Soul would just kind of fall off."
The knowledge King gained through Heart & Soul helped her understand issues that voters emphasized during the campaign. For example, while collecting stories for Heart & Soul, King learned many residents wanted to repurpose the former U.S. National Guard armory, a historic and vacant building. The same topic arose when her campaign began, and King found that she could analyze the issue from a neutral standpoint, given that she had already gleaned many differing opinions.
King also implemented her bias check throughout the campaign to ensure she listened to voters with an open mind, and she even convinced some voters to do the same. When a few voters questioned whether she would be too young to hold office, she approached the matter from their perspective so she could address their concerns—and change their minds. King knew that one woman who questioned her age had grandchildren who left town.
"I said, 'Do you think they would come back if they felt they had more representation on their council—that their voices were being heard?'" King said. The reaction she got from this woman was similar to others she spoke to.
"You could see the wheels turning in their heads; they were like, 'Oh.' So it was pulling them out of this mindset and saying, 'Just sit here in this middle ground for a second, and look at the playing field and see what's going on.'"
Although King did not win a seat on the council, she is determined to remain involved. She plans to help incorporate Galesburg on Track's proposed solutions. Her initial skepticism has dissolved by what she's seen happen through Heart & Soul.
"I never in my life before this would have thought that a process as fluid as this is would work, and with as much input as you're getting that it would be as cohesive as it is," King said. "We've been hoping for change, and a lot of people in our community, sadly, have just been twiddling their thumbs and waiting for a miracle. They've been waiting for a factory to come back, or they've been waiting for these things to come that realistically maybe aren't going to come. So I think having Heart & Soul asking them, 'How can we fix this community?' I think is exciting for some people, and it's livening. It's one of the first times recently where we've been like, 'Oh, hey, maybe something's going to happen.'"