A Library Garden Celebrates Reading, Art, And Nature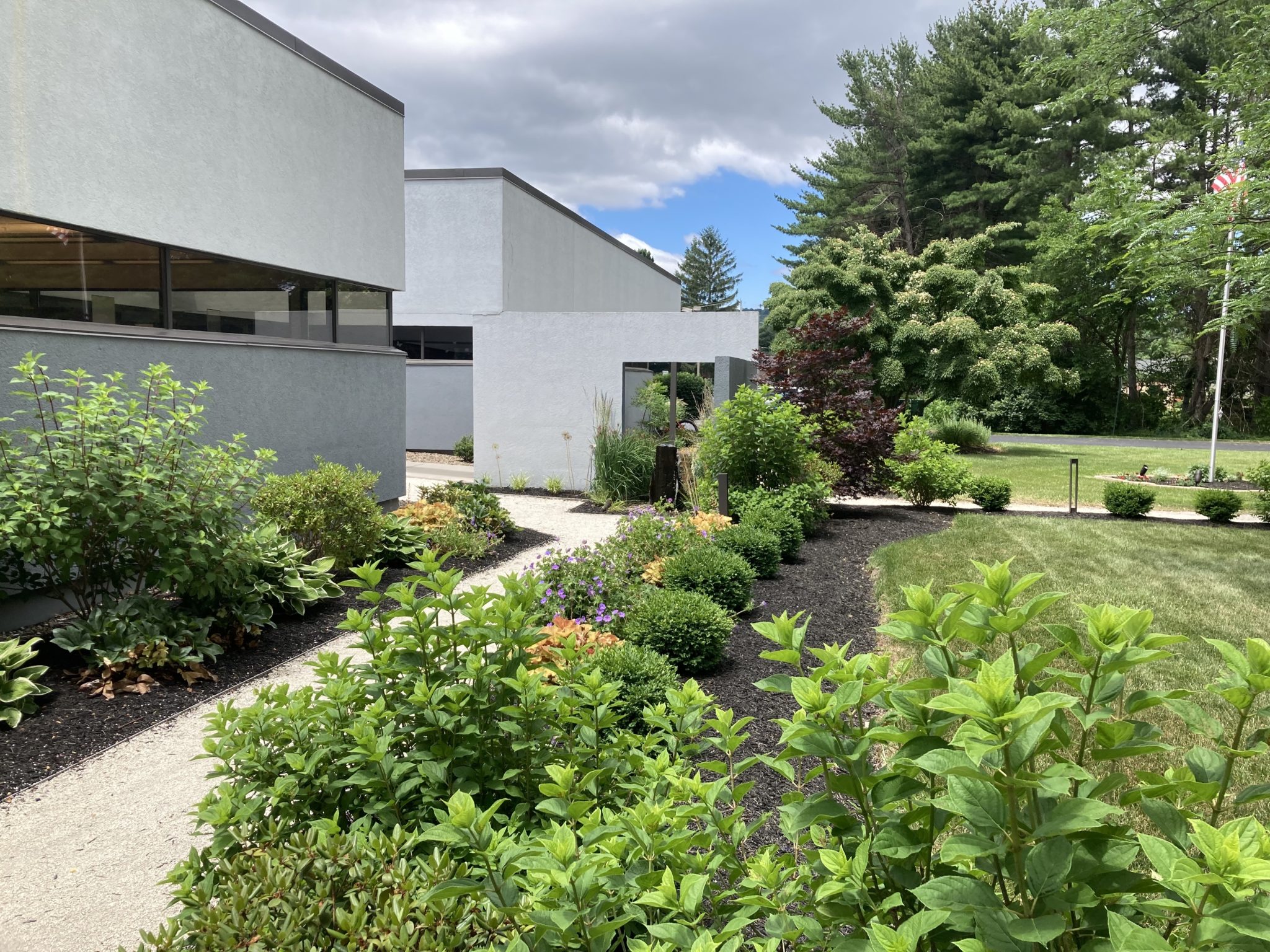 This article first appeared on the Our Towns Civic Foundation website on September 1, 2022, which you can see here.
In 2015, Dillsburg, Pennsylvania relocated the town's library to a bigger space to better serve its growing population. A year later, when tragedy struck, the community stepped up to grow the library to include a reading garden.
---
Walking up to the public library in Dillsburg, Pennsylvania, I was struck that the building seemed greater than just a storage facility for books. The building and manicured two acres of land surrounding it felt like a center of gravity for the town.
Our Towns has repeatedly encountered and reported on libraries that serve as platforms for community engagement. But each library has its own history. I was curious to learn how this library came to be and what it means to the community in Dillsburg, a Community Heart & Soul® town we've reported on earlier here and here. (CH&S is a resident-driven community development process and is a partner and supporter of Our Towns reports.)
---
In Dillsburg, the story of the town's library began in 1953. Several local women launched a story hour in the office of Dr. Martha Logan Bailey that eventually grew into the town's public library. The original library changed locations several times until it landed in town on Baltimore Street, where it stood for 30 years in the building that is now Katapult Engineering.
But around the turn of the millennium, as Dillsburg's economy began to shift from agriculture to services, Dillsburg's population grew from just over 2,000 residents in 2000 to more than 2,600 by 2020. The library was running out of space on Baltimore Street, and attendance at events was down because of overcrowding. "We had heard feedback from residents that they would come through town, couldn't find a parking spot, and they would continue on to the Mechanicsburg libraries," Lisa Richardson, a local library board member, told me.
To keep residents in town, the local library board decided to make a change in 2015. A committee spent two years looking for a new location and finally settled on a former medical facility that was offered at a reduced price. Whereas the old space was a smaller, non-handicap-accessible office building, the new space is residential and accessible to all – and offers an open layout with plenty of parking.
The renovated space, which the town secured through a state grant, has helped the library accommodate a wide array of activities since the move, including events for residents of all ages. But children's programming is a specialty. "Sue Rizzo, our youth services coordinator, does an unbelievable job with the kids," Keith Greenawalt, Dillsburg Area Public Library Executive Director, told me. As we've written previously, librarians regularly tell us that children's sections and activities are the most consequential segments of their work.
The library regularly hosts children's performers and educational roadshows as well as monthly LEGO, Minecraft, and coding nights. "Our signature event this summer was an 'escape room' planned and assembled by teens in the community with Sue's supervision," Greenawalt said of the time-bound, puzzle-solving immersive experiences that have become popular nationwide. "We had 50 or 60 younger kids go through in small teams. It was nice to see an activity bring together kids of such a wide range of ages."
Connecting teens with leadership opportunities to support programming for younger children is a strategy we've seen in many places, including Dodge City, Kansas.
In 2016, a tragic accident struck the community that would change the course of the library's history. Lisa's and John Richardson's son and local Dillsburg resident Jordan Richardson died at 30 years old. In his memory, the Richardsons asked for donations to support the creation of a reading garden outside the library. "We were looking for ways to commemorate Jordan's life and wanted to contribute to the community," Lisa Richardson told me. "The garden was a perfect fit."
An avid reader, Jordan could frequently be found with a book in his hand, his mother told me. When it wasn't a book, it might've been his guitar – an instrument he taught himself how to play. And when he wasn't reading or making music, he could be found exploring nature. "He took a cross-country road trip and made it to the Grand Canyon and Santa Barbara, California," she said. "That experience shaped his life."
These three areas of significance to Jordan offered the Richardsons a vision of a new space for the community – a garden that could bring reading, nature, and the arts into harmony.
The Richardsons set to work and raised donations to turn that vision into a reality, including a substantial portion they matched themselves. Several community members contributed their talents in-kind. That included Rick Jackson, a local landscape architect and Jordan's godfather, donated the design plans, and Chad Fischer, a nationally renowned sculptor, crafted a sculpture at a friends-and-family rate. The local gardening club installed the plants at no cost.
The community garden is naturally beautiful, but it's also functional. Library staff use the garden to host outdoor reading time and a free concert series held monthly in the summer that attracts residents of all ages. The Dillsburg Public Library's efforts are one of a long list of creative solutions that libraries across the country adopted to help their communities during the pandemic.
"The garden has been really important during Covid," Greenawalt told me. "Since we were not able to be inside for some of our programming, the outdoor space has allowed us to spread out and continue operating. We had about 200 people for a program in July. There's no way we could ever have fit that many people in the building."
---
Dillsburg's story is an example of how loss can lead to positive change. When the Dillsburg library began losing attendance, the board bet on the community by moving the library out of its decades-long home to gain a larger space to gather. When the Richardsons lost their son, the community gained a garden space to congregate to celebrate his life and delight in the things he loved.
As we previously reported, this is the ethos of Dillsburg – a place where residents put their energy into making their community a better place. Those efforts have paid off. Today, the garden and renovated space offers brings people together in celebration of nature, education, community, and the arts.
"I've had people email me saying they sit in the community garden to read, meditate, or just listen to the wind chimes and find peace," Richardson told me. "We didn't want Jordan's death to be in vain."
The Richardsons' and broader community's choice to convert loss into a celebration of community and life assures that it won't be.