Ripple Effect: Four ways Community Heart & Soul® helped other plans take shape in Galesburg, Illinois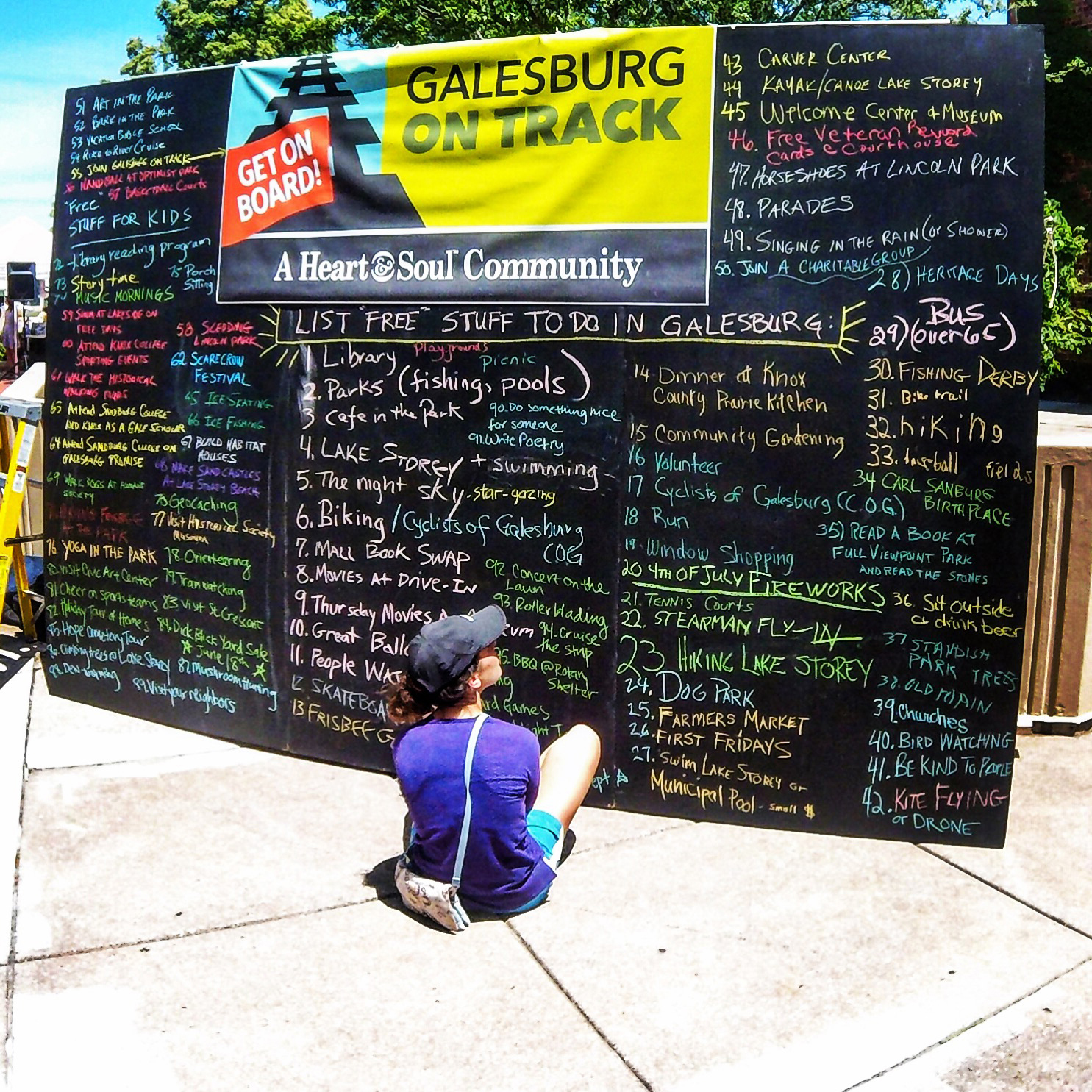 One of the strengths of Community Heart & Soul is that its impact has a ripple effect that changes the way a town does business—in a positive way. For one, Heart & Soul® gets people from throughout the community talking to each other and working together, and that becomes much more the expectation versus participation by "the same ten people."
In addition, the results of extensive engagement work done during a Heart & Soul project lead to an understanding of what matters most to everyone and that becomes a road map for others to follow and measure against.
That was the case in Galesburg, Illinois, (pop. 31,000) where consultants were working on a comprehensive plan and a parks and recreation plan about a year after the Community Heart & Soul project started there. Galesburg on Track (the name of the Community Heart & Soul project) deepened the consultants' work. Here's how:
• Broader inclusion: Based on the close look at where people live and how they are connected that happened using Community Network Analysis, a key tool used for Community Heart & Soul, Galesburg on Track was able to recommend that the consultants include a quadrant of Galesburg consistently overlooked in past comprehensive plans.
• Stronger outreach: Due to deep community connections, Galesburg on Track was able to help spread the word about public meetings. This connectivity brought at least four to five times the number of participants who would have typically participated in such a gathering.
• More innovative and timely input: During one meeting, Galesburg on Track facilitated community feedback using Facebook. As comments were posted, they were reported live to the consultants.
• Better measurement: The consultants used Heart & Soul data to see if what they heard aligned with what residents said during Galesburg on Track. This was helpful because the consultants, who were working on a deadline, did not have as much time to devote to engagement. For example, the consultants heard that residents wanted a multipurpose community center. That checked out with what the Galesburg on Track team heard.
Tapping into the relationships and data from Galesburg on Track assisted with engagement and provided a valuable way to evaluate their findings, said
Andrew Vesselinovitch, senior associate at Houseal Lavigne, the consultants working on Galesburg's comprehensive plan.
"It's very helpful for Houseal Lavigne to have a project like Heart & Soul that's been in the community and can help us gauge what's going on," Vesselinovitch said.
Steve Gugliotta, planning manager for Galesburg, echoed that sentiment, saying it made sense to leverage the work of Galesburg on Track.
"They were already getting opinions from the community at large and we were seeking, not the exact same, but similar input on those types of topics," Gugliotta said.
Rebecca Susmarski is a writer based in Galesburg, Illinois. Deborah Moreno, project coordinator, Galesburg on Track, contributed to this post.