3 Ways Local Philanthropy Made a Difference in Small Towns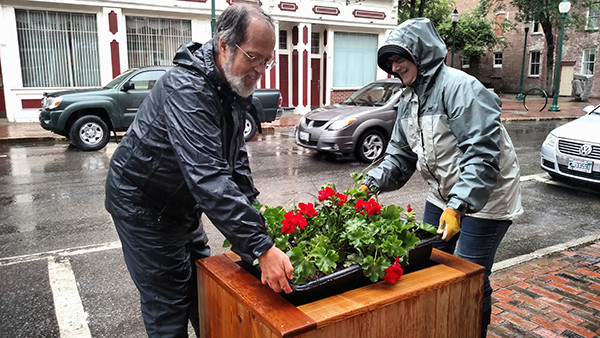 When most of us think of philanthropy, we think big—big dollars, big foundations, big projects. But philanthropy also happens in small, but impactful ways. Residents come together to donate to a neighbor in need or to volunteer on a beautification project. With a little ingenuity and a group of volunteers, communities have found that projects that were stalled can get done. Along the way the project becomes a community builder that brings people together and gives them something to be proud about in their town.
The concept was well summed up by Ed Aller, a florist from McComb, Ohio, who was a beneficiary of small town philanthropy:
"We're small enough to know people, but yet we're big enough to get things done."
Here are three examples of local philanthropy that made a difference in Community Heart & Soul® towns:
–-Finding funds for the florist
Ed Aller has helped residents in McComb, Ohio (pop. 1,600) mark special occasions for 26 years. He owns Primrose Flowers & Gifts on Main Street. When he was struck with cancer, the community saw the opportunity to repay him.
They held a fundraiser at the local high school and more than 1,000 residents turned out. Not only that, the community donated more than 200 gift baskets to raffle off, along with other items for the raffle and silent auction. The event raised $23,000 for Ed's medical expenses.
"It was just overwhelming and very humbling that we have that kind of a community that will come together," Aller said. "This is a town that cares."
Watch a video featuring Ed.
–Green thumbs doing great things
In Gardiner, Maine (pop. 5,700) spring means Gardiner's Gardeners get to work beautifying the town. For the past four summers, a group of a dozen volunteers has been devoted to sprucing things up. They tend more than 10 formal city gardens and two pocket parks, and plant and water two dozen planters.
In true local philanthropy fashion, the group has devised ways to get the community involved. For example, a local craftsman built cedar planters and the group solicited sponsors to buy them at the maker's cost. Each planter has a plaque citing the donor.
While their time is donated, the cost of plants and soil, about $1,200 per year, is covered by a local philanthropic fund.
"We get lots of positive comments and know the community supports us. It's all part of the resurgence of this old mill town in central Maine. Our goal is to help Gardiner be a 'destination community' where families will want to come and stay," said Robert Abbey, who helped organize the group.
— Firefighters to the rescue
Fire Chief Tom Simkins was enjoying a bike ride with his wife through Lincoln Park in Galesburg, Illinois, (pop. 31,600 ) and he saw, for the umpteenth time, the decaying bandstand gazebo, cordoned off with yellow tape. He decided to do something about it. He went to the fire station with an idea.
"I just said to the firefighters that morning, 'Do you guys think we can fix that?'"
Firefighters, volunteers, even the mayor, all rolled up their sleeves and got to work on the gazebo. The project took six months and cost $75,000, which saved the city $100,000 over the initial cost estimate.
"Firefighters on their off duty time were the lead. They would come on their day off. I'd say, 'Hey guys, we've got concrete showing up here in 'x' amount of time. They would show up. The park guys would come. Ordinary people would bring a hammer. The mayor came out. It was just a fun thing to do. Who wouldn't want to be involved?"