Bringing residents together shapes a community's future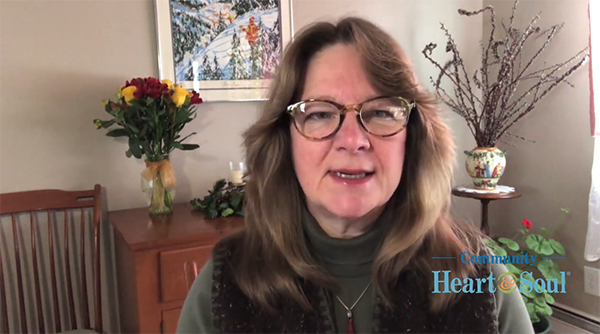 This is the first video in our Community Heart & Soul Minutes series. Hear from Alice Trowbridge, former Community Heart & Soul Project Coordinator for Heart of Williamsport, Williamsport, Pennsylvania and a Community Heart & Soul Coach on bringing residents together in her community.
Alice is a Penn State University graduate and a registered landscape architect. She has worked in land development, recreation and rivers conservation planning, and now provides technical assistance to river towns for re-visioning their relationship with the river through the Susquehanna Greenway Partnership (SGP). She is the project director for Heart of Williamsport– a Community Heart & Soul project collaboration with SGP, the City of Williamsport, the Pennsylvania Department of Conservation and Natural Resources, and the Pennsylvania Humanities Council.
Community Heart & Soul is a resident-driven process that engages the entire population of a town in identifying what they love most about their community, what future they want for it, and how to achieve it. In these Community Heart & Soul Minutes, community members share their insight and experience on topics like community engagement, revitalization, how data supports community projects, new volunteers emerge, and guiding decision making in their communities.