Meadville Leaders Turn A Community's Plan Into Action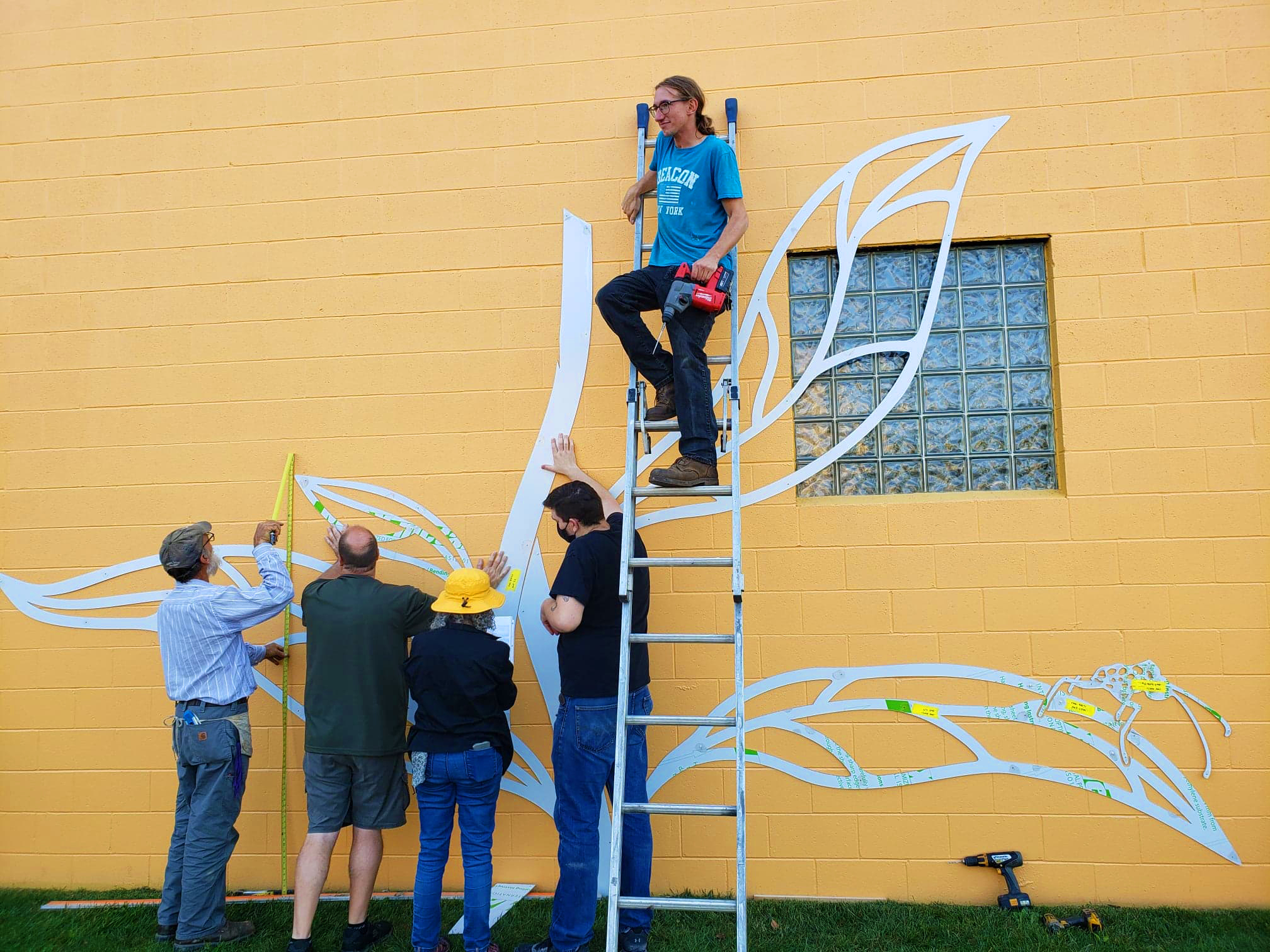 This article first appeared on the Our Towns Civic Foundation website on February 17, 2023, which you can see here.
Community leaders in Meadville, Pennsylvania listened to, and included, residents in planning and policymaking to drive informed change.
Governments of any size can run the risk of appearing to be removed, rigid bureaucracies. But in my reporting, I've found that some governments do a better job at bringing their residents into the process of governing. After reporting on community engagement initiatives in Dillsburg, Pennsylvania, I became interested in how local governments can find new ways to empower residents to shape the future of their towns. This included continued reporting on Dillsburg, and also featured Bucksport, Maine, and Meadville, Pennsylvania. Wanting to explore this more led me some 270 miles west from Dillsburg to visit Meadville in January.
A town of 13,000 in the northwest corner of the state, Meadville has had a long history of social innovation since its founding in 1788. In the 1800s, the town paved the way for the modern day direct primary system, was a stop on the underground railroad, and played a critical role in advancing the desegregation of the state's public school system. More recently, in 1995, it created a brownfield reclamation process that is now a national model for cleaning up underused industrial land.
But judging by conventional measures today – population growth, per capita income, poverty rate, median income – Meadville's future might appear to be stagnant, if not continuing to gradually decline. Yet when I talked to Meadville's residents and town leaders, they told me they believe the city's brightest days are ahead.
That's because Meadville's leaders are creating a movement to recapture and invigorate the town's entrepreneurial spirit. Beginning in 2015 with a collaboration between the city government and local Allegheny College and proceeding with Community Heart & Soul, a resident-driven process that we have reported on often, Meadville's leadership has begun to implement a set of reforms that are paving a new path for the future of the town and how it is governed.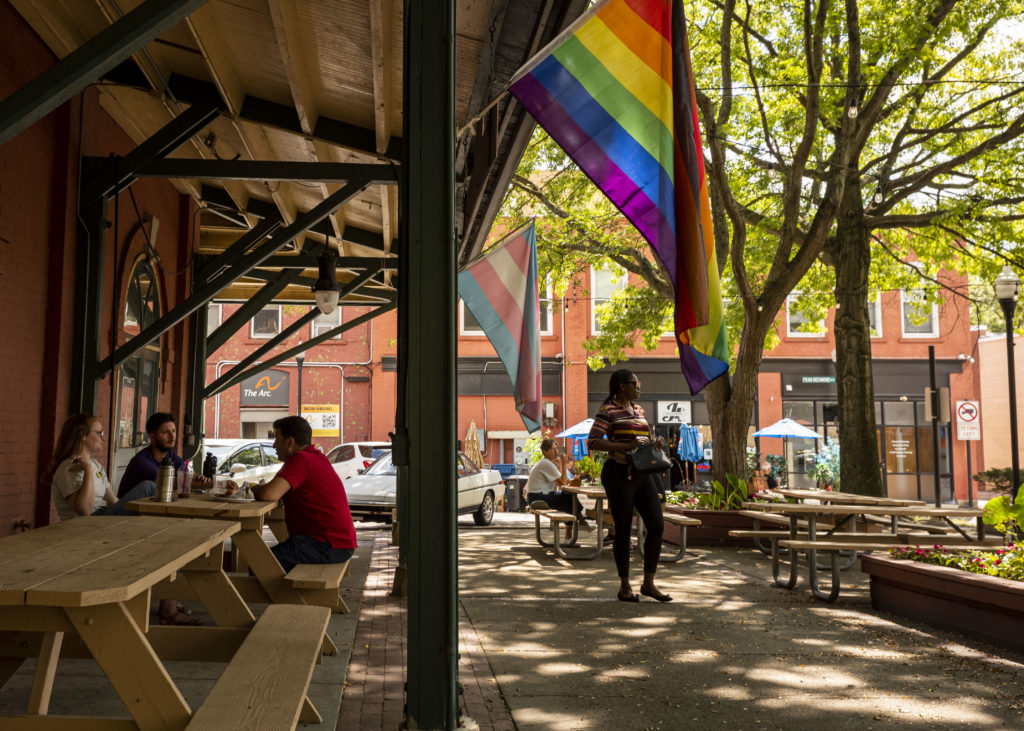 ---
'Being Innovative, Being Hopeful'
Meadville thinks bigger than its size," Andy Walker told me, as we chatted over coffee at a local cafe, French Creek Coffee and Tea Co. Walker began serving as the executive director for economic, civic, and community engagement at Allegheny College, his alma mater, in 2021. Prior, he was the executive director of the Meadville's Redevelopment Authority after a seven-year stint as city manager. "We may have big challenges, but none of that stops us from being innovative, from being hopeful."
The challenges: Leaders told me Meadville continues to face economic uncertainty. It has a housing crisis and a major poverty problem, with a population that has declined 31% since 1950 after major manufacturers pulled out. The town has also suffered frequent losses from the opioid epidemic.
"It seems like a couple of young people a week show up in the obituary section who died unexpectedly," John Hartnett, a local nonprofit leader, told me later in the day as I explored Meadville. "If those deaths aren't from a freak accident, they're from suicide or an overdose."
The hope? Resilience – starting with a can-do, local-problem-ownership mentality. Meadville residents have learned that no one is coming to save them, Walker explained to me. They have adopted the belief that the assets to support a vibrant Meadville exist internally, if only residents can work together to unlock their shared potential.
Several residents and leaders I spoke with pointed to Allegheny College's "Year of Meadville" as the spark plug to reignite community pride. Annually, the college, an anchor institution in Meadville with a student body that accounts for roughly 15% of the local population, chooses a campus-wide theme to focus student and faculty attention on one specific domain. In 2015, the college elected to focus on empowering the local community.
Out of the Allegheny College-Meadville collaboration came strategic partnerships between the university and the city, community events and speakers on the topic of civic innovation, and community-based research on topics such as Meadville's medical facilities.
New ideas and models for community development were another important result of the campaign. One of the speakers, Stacy Mitchell of the Institute for Local Self-Reliance, introduced Meadville residents to community wealth-building strategies that would later result in the new organizations including Northwest Pennsylvania Investment Cooperative, a community-owned fund to invest in community-focused local businesses, and Common Roots, a nonprofit that works on cooperative housing.
As ideas emerged during the Year of Meadville, so did new community leaders, like Autumn Vogel. Vogel, who is originally from the suburbs of Pittsburgh, had graduated that spring from Allegheny College and was hired by the university as a fellow to organize events, speakers, and partnerships during the Year of Meadville. The "year" ran from 2015 through 2016, but the process was catalytic. It increased confidence that improving Meadville was possible.
During the Year of Meadville, a group of local leaders attended a meeting with PA Humanities, the state's humanities council, about Community Heart & Soul, a process to engage more residents, agree on priorities for changes, and set up a plan for coordinated action and how to bring Community Heart & Soul to Meadville (Community Heart & Soul is a partner and supporter of Our Towns). PA Humanities, which has made civic engagement one of its pillars, supports and encourages the Pennsylvania towns participating in Community Heart & Soul, and awarded Meadville a grant to implement the Heart & Soul process.
Members of the Year of Meadville team thought Community Heart & Soul offered a great way to continue momentum for community action. The project, which participants named "My Meadville," was formally launched in late 2016 and was soon run out of the city's Redevelopment Authority (RDA). The city hired Vogel as a community development coordinator, and running My Meadville later became one of her responsibilities.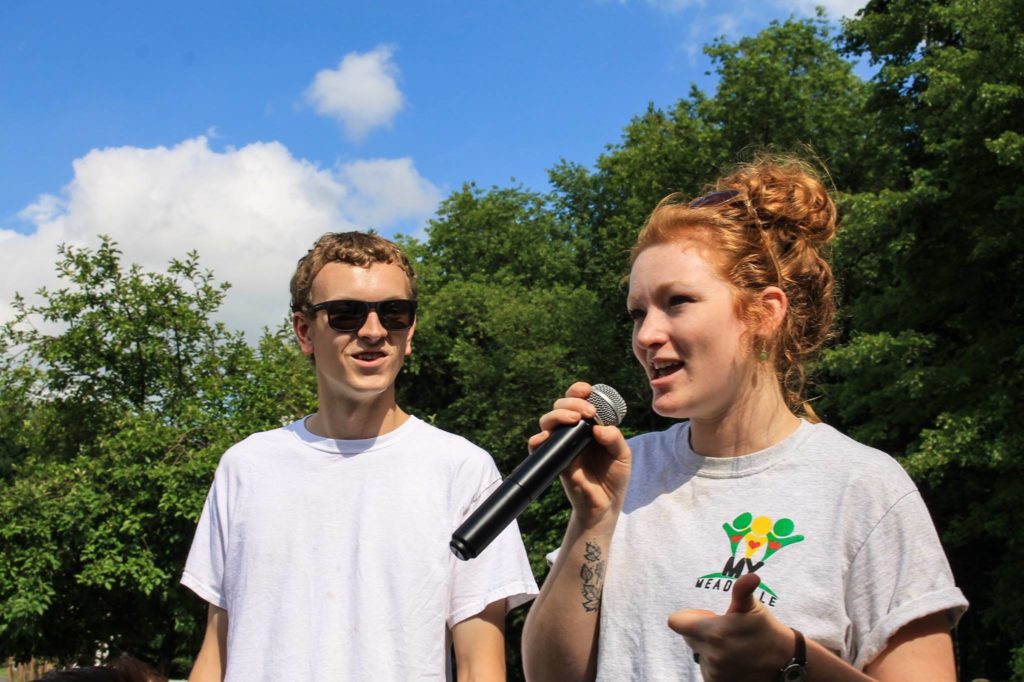 Over the next two years, Vogel and a small core team led 150 local contributors to conduct over 700 interviews and reach thousands of residents by soliciting input at community events. The team synthesized the interviews into a set of community values (inclusion, small town, health and safety, local economy, children and youth, education, transportation, and nature) that mapped into a community action plan with 30 agenda items for positive, consensus-driven community change.
Some Meadville residents were skeptical of Community Heart & Soul at the outset of the project. That included Walker, who was city manager at the time. He had attended that PA Humanities meeting, and told me he had initially felt that the process might be "too fluffy" for a town that needed to be pragmatic in the face of serious budgetary issues.
Others outright opposed the process. According to Jaime Kinder, Meadville's current mayor, town leadership at the time had benefited from the status quo and did not generally consult marginalized groups or promote change in the community prior to My Meadville. After reading the report, the council at the time called back 300 copies of it after they had taken issue with the introduction. Later that year, the plan, which won an award from the Pennsylvania Chapter of the American Planning Association, was finally released. But in the following months the city council restructured the Redevelopment Authority, and with it dissolved the entity that served as the fiscal and administrative sponsor for the Heart & Soul project. Vogel and the rest of the RDA staff were laid off.
The My Meadville team was not satisfied with just publishing a report. Intent on converting the community-sourced actions listed in the report into programs and policy, Vogel decided to run for city council alongside Larry McKnight, a bus driver who became involved in the My Meadville process after he was interviewed during a story circle held for drivers. The two unseated incumbents in 2019, and in the coming years joined a group of likeminded Meadville residents to found Crawford County United (CCU), a chapter of Pennsylvania United, a grassroots advocacy organization that helps organize local-level political campaigns.
"Once we were in office, we realized how hard it is to make change and wanted to keep up the momentum for our work," Vogel told me. CCU's party platform focused on affordable housing, improved public spaces, and a more inclusive local government – areas highlighted in Meadville's community action plan.
CCU candidates, including Kinder, swept the following mayoral and city council elections in 2021, filling the municipal government with politicians committed to delivering on the demands of Meadville residents. Effectively an experiment in direct democracy, the election demonstrated that residents value being included in determining the trajectory of their town.
---
Taking Action: Putting the People's Plan into Place
The CCU coalition has been working to enact the agenda set forth by the My Meadville process.
One of their focus areas has been improving the living conditions of renters, who make up 65% of households in the town. After a petition for a renter's inspection program received over 1,000 signatures, the city council passed an ordinance to create one. The council recently introduced an ordinance to prevent landlord retaliation against renters who request repairs, speak publicly about poor conditions, or organize other tenants. These changes are part of a package of legislation aimed at ensuring Meadville's housing stock meets basic standards and renters have agency to seek recourse when those standards are not met.
Additionally, volunteers from the My Meadville team have also worked to create a climate action plan to steer the City of Meadville towards a more sustainable future. As a part of the plan, Meadville created an Environmental Advisory Committee – another line item from the My Meadville process – that is tasked with its implementation. The council also passed a non-discrimination policy to protect marginalized groups, like the LGBT community, from violations of their rights. The policy is similar to an initiative that had previously stalled in 2015.
When I interviewed Kinder in January, I saw the ethos of active public engagement at work. Her office is adjacent to the municipal building's entrance, and she left her door open as we spoke. Every few minutes, a member of the public would pop their head in to say hello, convey a point of view, or ask how to access public services. Her open-door policy extends beyond the physical door.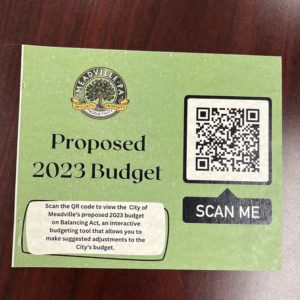 "We ask for input in many ways: town halls, emails, Facebook messages, and phone calls to make sure people are heard," Kinder told me. During budget season, the municipal government designed a digital participatory budgeting tool to allow residents to understand tradeoffs associated with revising the budget and see how the local government spends public dollars. They also set up feedback sessions with each of the heads of municipal departments at different times of the week for public comment. Both of these changes were key actions suggested by the My Meadville action plan.
A Meadville native, Kinder has continued to create trust with residents who have been traditionally excluded in part because of her identity: the town's first female mayor, a single mother who still lives in poverty, and the town's first Black mayor.
"Mayor Kinder has shed light on the beauty of African-American culture and diversity in the city," Preacher at the local St. John Missionary Baptist Church and Meadville NAACP President Cameron Bowman told me. "She puts a face to our voice. In past administrations, the NAACP had conversations with the city manager, not the mayor. Mayor Kinder allows us to not just be behind the scenes, but in the forefront."
Kinder shows up to places that have been historically marginalized by town leadership. She met with residents at Connect 55, a senior living facility, and Holland Towers, a public housing property, whose complaints about living conditions included bedbugs and basic building disrepair. According to Kinder, these communities struggled to make their voice heard prior to her administration. "When people who say they are hurting call me, I show up. I may not be able to solve their problem, but I can connect them to someone who can."
She makes sure she and her team show up at community events and spend time in third spaces, like the town park. "I don't go to $50 dinners because I can't afford them. My job is to help people to understand that I am a part of the community, not someone looking down into it."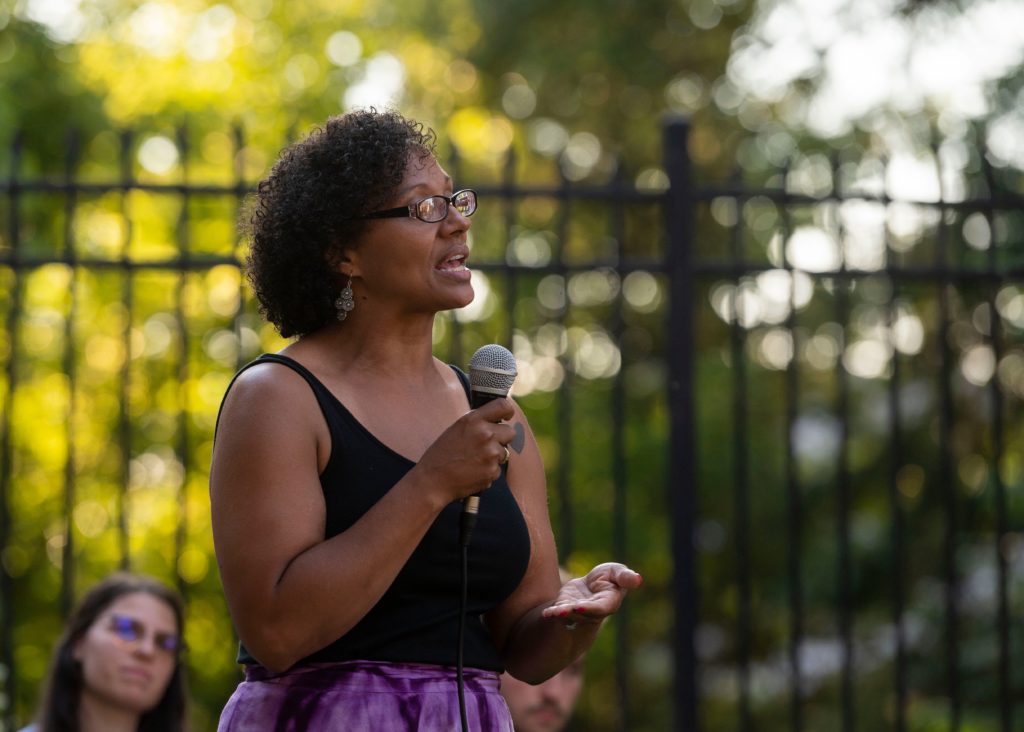 Kinder's approach, she told me, is driven by her childhood. "Growing up, nobody cared about my mom. She didn't know who her public officials were because she felt they weren't making decisions that had her in mind. When you're in poverty, you're thinking about day-to-day things like: can I keep the lights on today? Can I keep the gas on? You feel like you don't have a say, and you forget that the decisions your local officials make are affecting your daily life."
Kinder believes her mom deserved better – local leaders who were committed to building a pathway for families like hers to meet their basic needs. Using a human-centric approach to governing, she and her staff are slowly building rapport with the community.
"My Meadville took a hopeless community – and we were feeling hopeless, by the way, we didn't know where to go – and gave us direction," she told me.
---
Taking the Time to Listen
Soliciting input is not easy. It takes considerable investment and patience from towns and their leadership. And not everyone will be initially on board with the proposed changes, or ever.
But resident-inclusive governance provides incredibly valuable data to decision makers and their constituents.
"The process took a long time and pushed buttons," Walker told me of My Meadville. "But it tested traditional boundaries and engaged people and voices that aren't at the table or aren't invited."