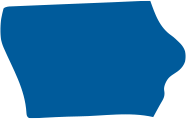 Postville,
Iowa
We're thrilled that Postville, one of the newest additions to the Heart & Soul network, is off and running! Be sure to check back in the future - we'll post updates and links as they progress in their Heart & Soul journey.
Postville, Iowa, is a small community with almost 3,000 residents, encompassing a little more than two square miles in a land of gently rolling hills. With a Seed Grant from Community Heart & Soul and the enthusiastic support of the Postville City Council, the Allamakee County Economic Development, the Allamakee-Clayton Electric Cooperative, and the nonprofit Our Postville, a team of volunteers is off and running working on resident participation.
Read more about the great things happening in Postville here!