Rolling the Dice: Millennial Sets Up Shop in Struggling Downtown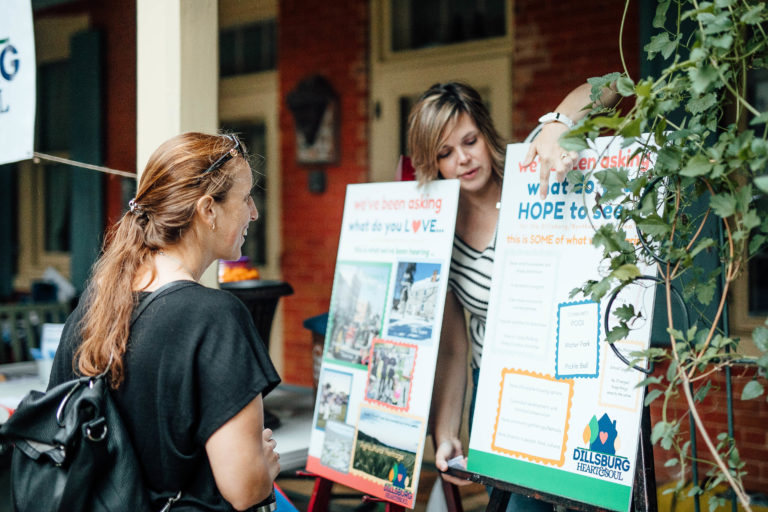 Bree Henderson owns Polished & Proper Barbershop & Shave Parlor in Laconia, New Hampshire (pop. 16,500). She chose to start her business in the struggling downtown in this former New England mill town. She's an example of a Millennial (age 22 to 37) who made the choice to take some risk on a small town–reversing so called "brain drain" from rural America. Bree is among the guests featured on an upcoming free Heart & Soul Talks webinar, where you can hear more of her story and other Millennials who made the choice to go big in small towns.
Heart & Soul Talks: Going Big in Small Places: Millennials Make Their Mark in America's Towns, Wednesday, Nov. 14, 1-2 p.m. Eastern. Free!
Orton Family Foundation: Where did you grow up?
Bree Henderson: I grew up in Mansfield, Ohio, a city in Northeast Ohio that has gone from 100,000+ people to under 50,000 in the last 10 years due to recession and closing of manufacturers like General Motors and severe reduction in steel production.
Orton: How did you choose Laconia, New Hampshire (pop. 16,464)?
BH: I originally moved to New Hampshire to be close to my ex-husband's children, when I separated from the U.S. Air Force. We lived on the seacoast while I attended barber school, about an hour away. There was a general understanding in the barber community, at the time, that Laconia was in need of a good barbershop. There just happened to be an older barber looking to sell his business in Laconia.  I had no hesitation of owning a shop that was an hour and twenty minutes away from where I lived. It was an opportunity, and I took it. After a year of being open, life changes allowed me the opportunity to move to Laconia. It was like it was meant to be.
Orton: You opened your business in a downtown that was struggling. Why did you choose downtown?
BH: I didn't really choose downtown, but from the beginning I took the location of the shop I purchased to be a major selling point. The walkability of the area coupled with parking were obvious perks to the location, in addition to the placement of three banks with ATMs nearby. Barbershops being traditionally cash only, made that another positive. Most of all, I was banking on the fact that it was generally known throughout the community that you could go downtown for a haircut. This was evident due to the presence of a beauty school, several salons, and another barbershop within the same area.
Orton: What can your town do to draw more Millennials like you?
BH: The city of Laconia has many wonderful natural amenities, given that it is surrounded by lakes. It also possesses many outdoor activities to participate in year round, with a ski resort one town over. One of two things I think Laconia could do to attract more of my generation would be to spend serious time and attention to marketing, so that people can know how much we have to offer as a community. Having wonderful things is great, but not if no one knows about them. The second thing is mid-income housing. The housing market here, given that it is a vacation destination, is heavy on high end, lake shore housing, coupled with very old construction that New England is known for. Adding to these housing complications is the fact that Laconia is the only city in the county, which means it has services for less fortunate individuals, making the housing market more difficult.
You can find low-income/workforce housing and million-dollar condos, but there isn't much in the middle. The middle is where the average Americans budget lands, but we struggle to be able to offer housing for those who wish to raise families.
Register today for: Going Big in Small Places: Millennials Make Their Mark in America's Towns, Wednesday, Nov. 14, 1-2 p.m. Eastern. Free! (If you can't make the live session, sign up and we will send you the recording.)
[button link='https://www.eventbrite.com/e/going-big-in-small-places-millennials-make-their-mark-in-americas-towns-registration-50494999904?aff=Ortonblog' name='Register now']

presented in partnership with: