Paying it forward: Students in Maine create and donate produce stand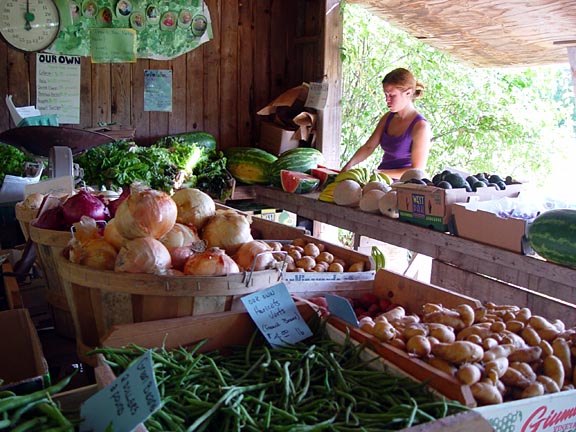 Summer in small-town Maine means gardens overflowing with produce—lettuce, squash, tomatoes, beans, and more—and avid gardeners can often be overwhelmed by the fruits of the season. People like to joke that if you don't lock your car while running errands in August, you might return to find your backseat filled with zucchini!
On the other hand, not everyone has the time, space, or resources to grow their own food, and many non-gardeners are eager to receive excess produce from friends' gardens.
In the Bethel area, in the western part of the state, the Mahoosuc Heart & Soul Team heard from residents wondering about a way to share the bounty.
Meanwhile, local high school students approached Mahoosuc Heart & Soul about possible community service projects and a solution emerged—they could build and install a produce stand where gardeners could drop off their excess produce, free for the taking.
"It was an idea that came from the community about an unmet need," said Cat Ingraham, coordinator of Mahoosuc Heart & Soul.
The students are part of the innovative Telstar Freshman Academy program, which is a model of hands-on, experiential learning. In a collaboration between the school district and the University of Maine Cooperative Extension 4-H Camp and Learning Center, the entire ninth-grade class participates in project-based learning. The final learning unit of the year, Pay It Forward, focuses on using academic knowledge and skills to address community needs.
"In past years, we have built trails and bridges, designed and led activities with young people and senior citizens, created and installed interpretive signs, planted gardens, painted murals [and] promoted new community initiatives," said TFA teacher Norm Greenberg.
This year, the produce stand was for local nonprofit Edible Bethel, which encourages businesses in downtown Bethel to maintain planters and small gardens from which passersby can help themselves to fresh vegetables and herbs. The group also maintains a large garden in the heart of the village that features fruit trees as well.
The new produce stand, built and delivered by the high school students, is located adjacent to the garden, providing a convenient place for gardeners to drop off their surplus produce. Anyone is welcome to visit the stand and take home whatever they can use.
It has been exciting to watch the activity at the stand, said Amanda Moran, a local gift shop owner who is the coordinator for Edible Bethel.
Nearly every morning when she arrives at work, the stand is already piled high with fresh produce and people help themselves throughout the day.
"It's being utilized a lot. I've had a lot of gardeners dropping things off," she said. "We've had a great variety of vegetables, including some really fun things, like purple cauliflower and purple string beans."