Lincolnville Imagines its Future: 'Who Do We Want to Be?'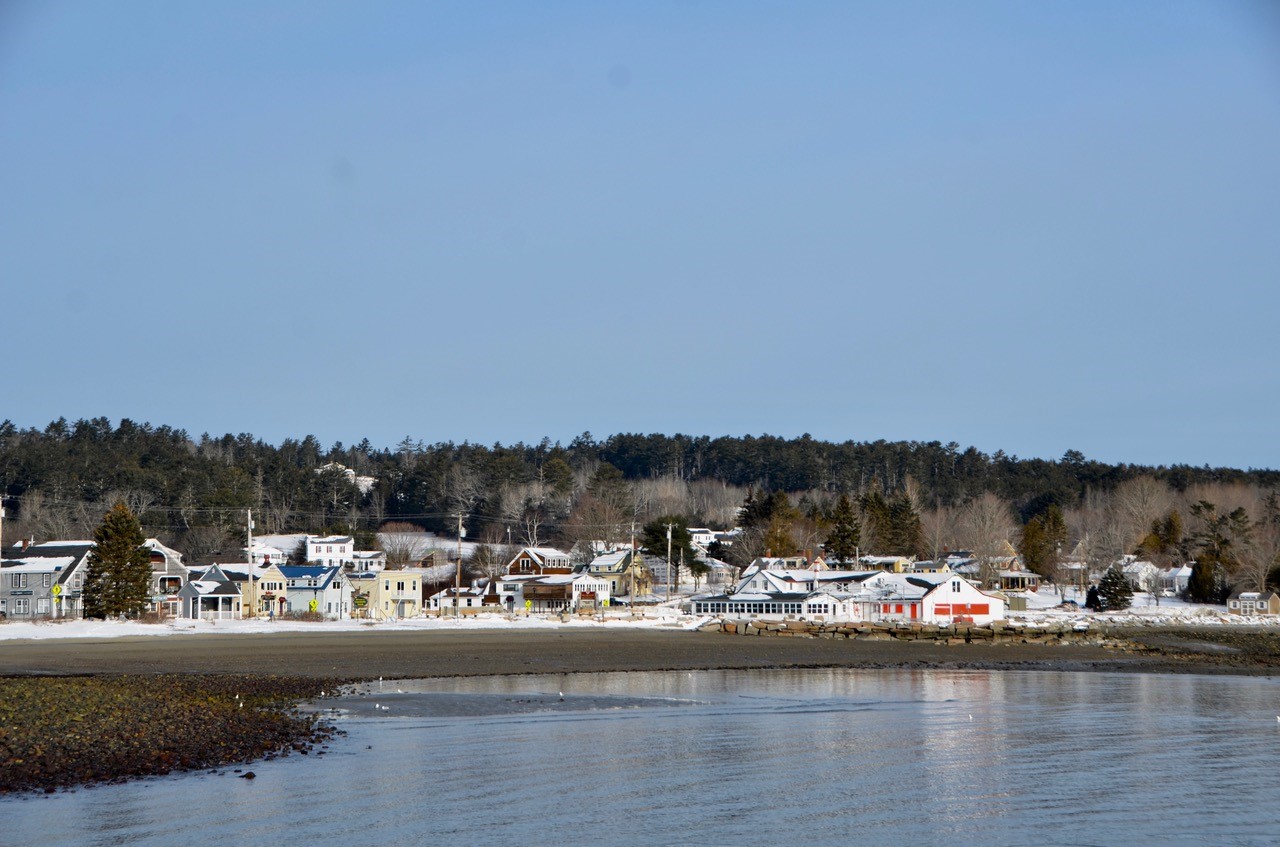 The Town of Lincolnville, on the western edge of Penobscot Bay and almost midway along Maine's coastline between Boston and the Canadian border, has a strong sense of self. It is small — population approximately 2,312 — and rural, with mostly modest homes and small farms spread through wooded hills and fields, aside ponds or the ocean, or nestled closely together in Lincolnville Center or 'down at the Beach.'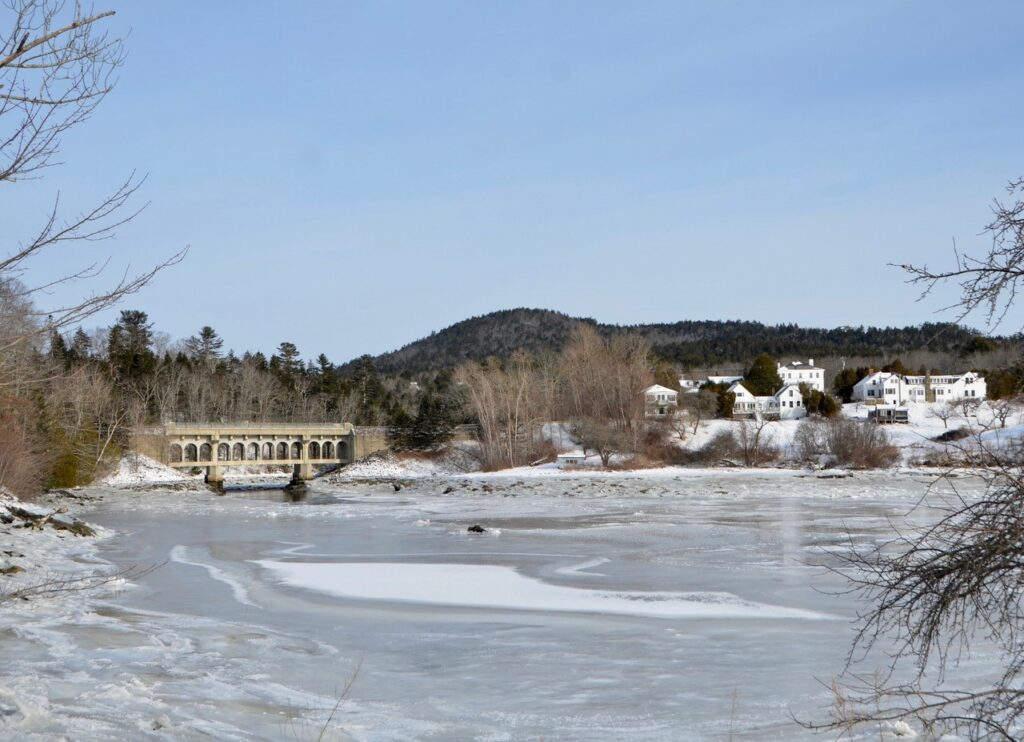 Lincolnville is rich in history and its people are caring, creative, self-reliant, down to earth, and at times, feisty.
If an issue strikes home, they will likely turn out in force at town meetings. Residents once filled the school gymnasium to debate whether to keep the town's one-person police department. Filling the bleachers, they stayed put for hours until everyone had their say (and at a close vote, ultimately dissolved the PD).
Lincolnville is a tight-knit community, and neighbors support each other, even if they wind up on the opposite ends of the political spectrum. And they talk. In-person or on social media, they discuss everything from local history and lost pets to checking out the source of mysterious cannon blasts. Columnist Diane O'Brien has written about the community for decades in local media. Recently retired, she handed the column over to her son, Ed, who, without hesitation, picked up the pen to continue the tradition.
Memorial Day parades are solemn affairs led by the Color Guard of local veterans. A June strawberry festival and August blueberry Wing Ding are celebrated with gusto. In early December, wood is hauled to the sandy Lincolnville Beach, stacked as a tall tower, and ignited into a large bonfire. Caroling begins, and the holidays kick off with a flourish.
This is a town that established the Lincolnville Community Library in 2014, after residents hauled an old school house by hand across the street to an empty town-owned lot. They renovated the building and filled its shelves with books. Commissioned as a public library by the State of Maine, a librarian was hired and a mission to foster life-long learning in the community was shaped.
At Lincolnville Beach, six miles from the town's inland center, the Lincolnville Historical Society continues to raise $325,000 to renovate another old schoolhouse to be the permanent home for an artifact collection, programs and projects that span centuries of local human history.
Changing demographics
For thousands of years, Penobscots made their homes in the woods, and along the shoreline, digging clams in the soft mud exposed by low tides and catching ocean fish; by some accounts, even swordfish that swam up the bay from the open Atlantic.
They fished the Ducktrap River, which today remains one of but six Maine rivers where wild salmon still frequent, swarming from the sea to freshwater in order to spawn.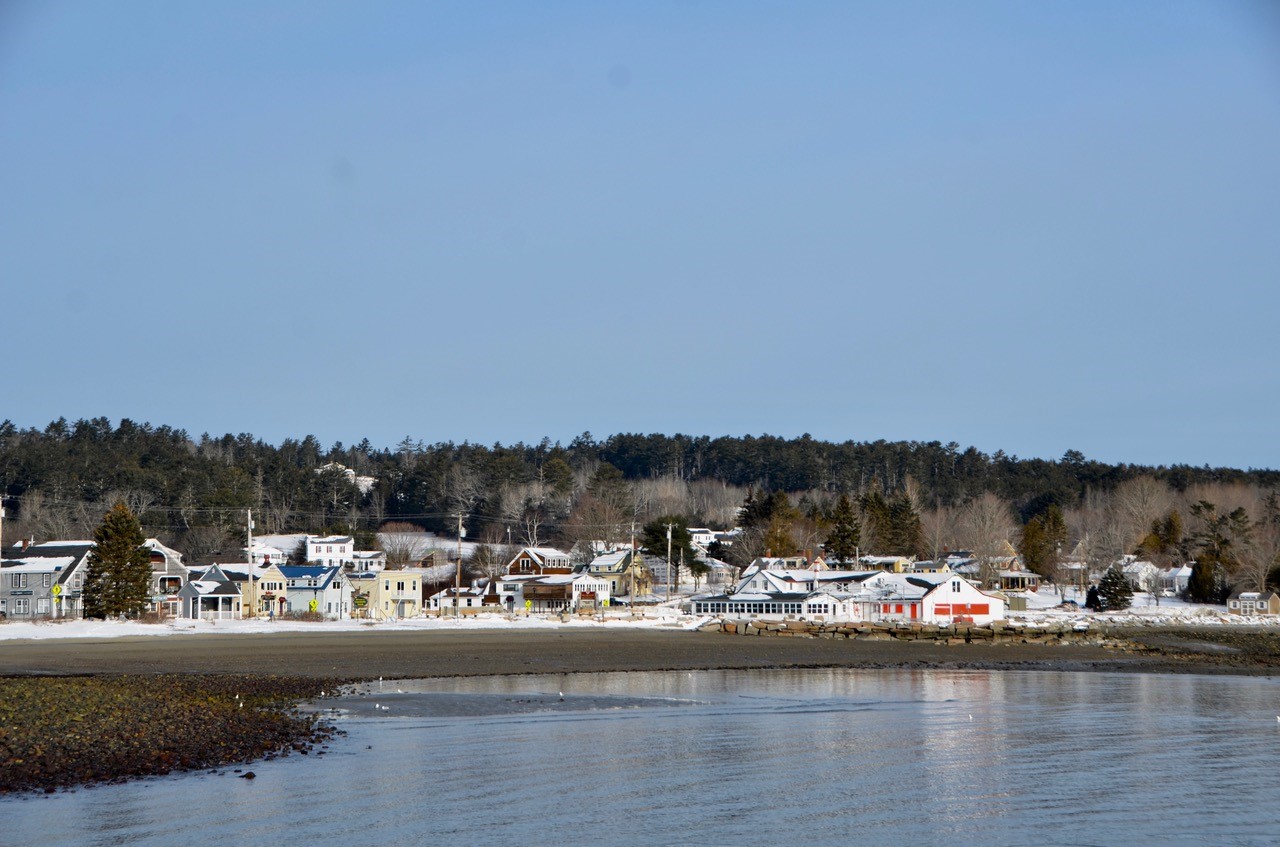 Early settlers built their homesteads, and fields were cleared for farmland. Rusticators arrived to build oceanfront cottages, and a wealthy summer enclave on Islesboro, just three miles across the bay from Lincolnville Beach and connected by a state ferry, expanded with fortunes generated during the Gilded Age, and later from exuberant financial markets, Hollywood and Silicon Valley.
The back-to-the-land movement, starting with a trickle in the 1940s, took off in the 1970s and 1980s, with yet another cycle beginning at the turn of the 21st Century. The COVID-19 pandemic further made the Maine coastline, and well inland, an attractive refuge for homebuyers from the North East, Texas and California desiring quieter communities. Home values in Lincolnville shot up over the past several years, as they did in neighboring Midcoast communities, and the population increased, according to some estimates, by 7 percent from 2010 to 2020.
With new people arriving, increased development and shrinking availability of housing, the town knew it was time to take a step back and look at itself, as the forces of change swept in.
In 2021, the Select Board created the Comprehensive Plan Review Committee to update its 16-year-old comprehensive plan. Then, in early 2022, the town agreed to pursue a Community Heart & Soul Seed Grant to help engage residents in shaping its future.
For Mainers, a municipality's "comp plan" is rooted in the 1970s, when a progressive state planning office encouraged — both by statute and financial incentives — that towns and cities write their own plans, ideally updating them every 10 years. Their purpose is to guide development, town policies and ordinances, especially those governing land use.
"The Comprehensive Plan should not be the work of a few people," said Lincolnville resident Susan Silverio, who is chairing the 2024 Comprehensive Plan Committee, and is also the local project coordinator for the Heart & Soul process.
"It needs to be the voice of all the people — the young, the elderly who cannot come out to meetings, the students," she said. "We want everyone's voice so we can begin to shape the future together, protect what we want and what needs to be protected, and preserve what we have."
After consulting with the Maine State Planning Office, Susan had suggested that Lincolnville engage with Community Heart & Soul so that the comp plan process could engage all residents to the fullest.
"The more I heard about Heart & Soul, the more I was excited," she said. "It goes so far beyond the comp plan."
The Select Board agreed with her, and voters readily approved at the 2022 June Town Meeting to expend $10,000 to match the Community Heart & Soul Seed Grant.
Initial community thoughts
On February 5, approximately 75 residents attended Lincolnville's first Community Heart & Soul gathering, held in the Walsh Dining Commons at the Central School.
They sat in small groups, five to six people at the most, at round tables, each of them featuring a large pad of paper. Picking up markers, people chatted, some scrawling notes across the pages, others writing in neat, complete sentences. Artists sketched pictures, while quieter folks absorbed the conversations before leaning in with their own ideas.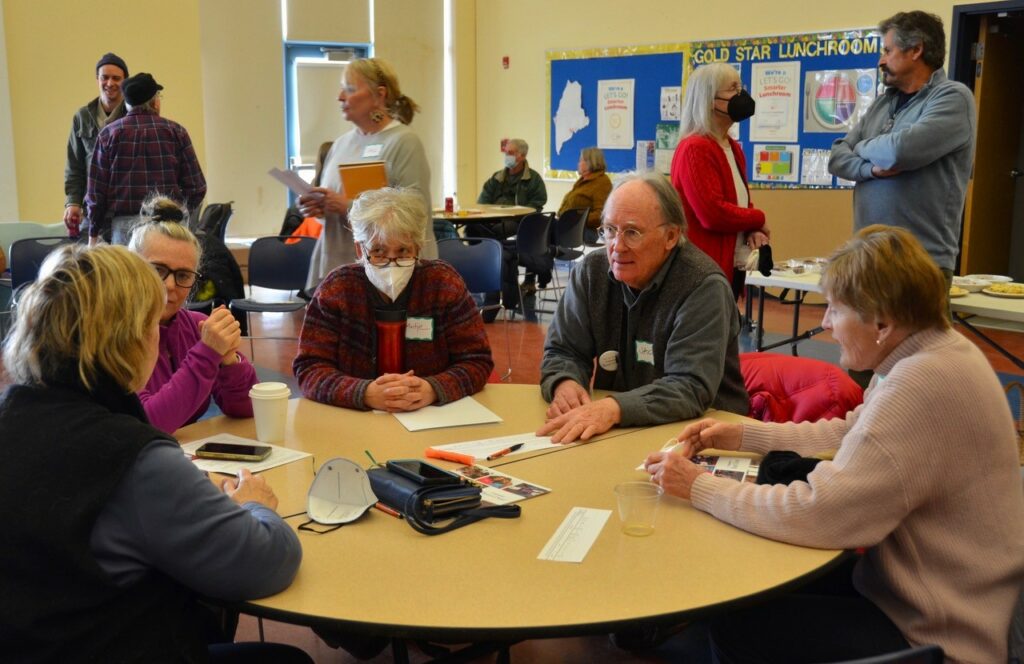 The focus was on imagining a future for their town.
Many who attended were longtime residents and some were new to the community. But it was just a handful who had grown up in Lincolnville; in fact, there were only four who raised their hands when Heart & Soul Coach and meeting moderator Catherine Ingraham asked, "who attended school here?"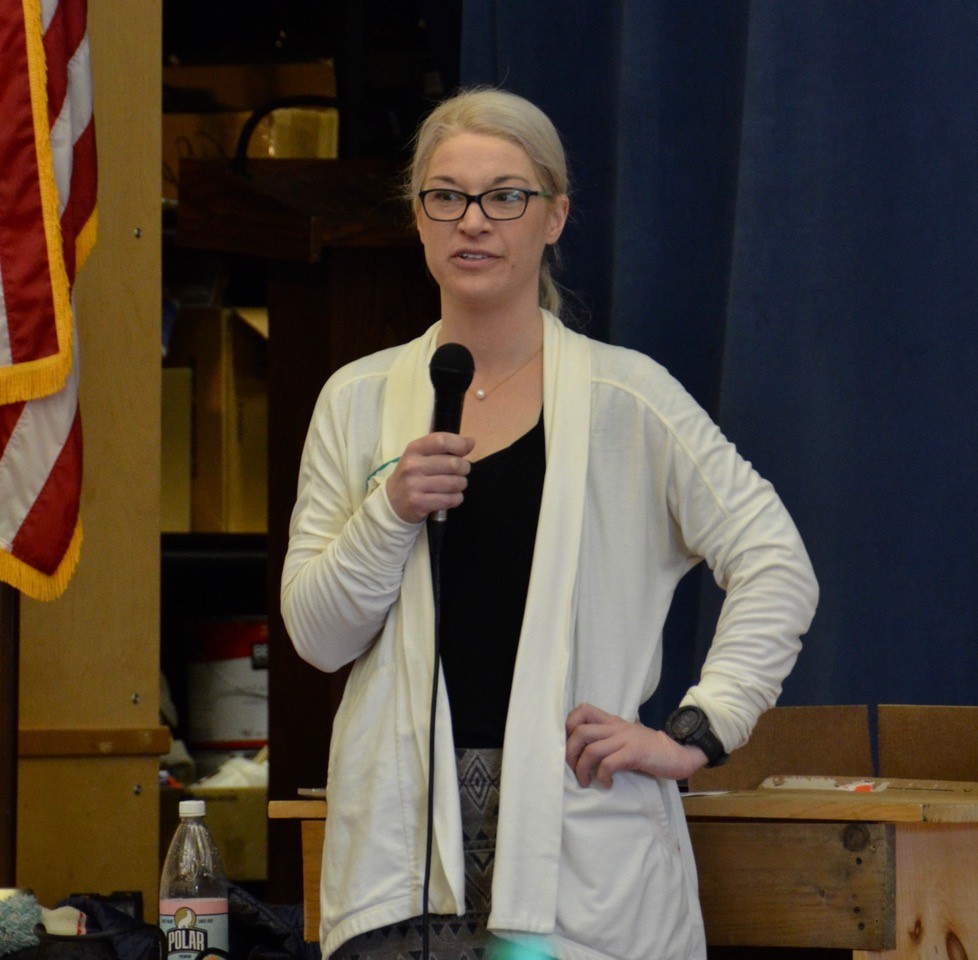 Those four ranged in age from teens to elders, and they all earned a big round of applause from the room.
It was a day after record-breaking cold swept through New England, with wind chills of 38 degrees F below zero. Newcomers had gotten a taste for legendary winters of Maine's past, and old-timers had been reminded of nature's ferocity.
The meeting kicked off a process focused on collecting, "individual stories, memories, hopes, and ideas that infuse a sense of place and space," the committee said, in its public announcement.
The next phase, said Heart & Soul Committee members, will be to engage people using, "a wide variety of creative outreach strategies to involve the entire community – lifelong residents and newcomers, year-round and seasonal, young and old, conservatives and liberals, leaders in different areas of the town's life and people whose voices are often missing or overlooked in community dialog."
Send teenagers out to interview the elderly in their own homes, suggested one resident, to talk with those, "who do not want to come out and do bigger events."
As they spoke, handing the microphone to each other, residents touched on common concerns: How to protect open space, natural resources, and community diversity as more people move to Lincolnville. How to cultivate food security with local farms and fishing. How to encourage construction of workforce housing.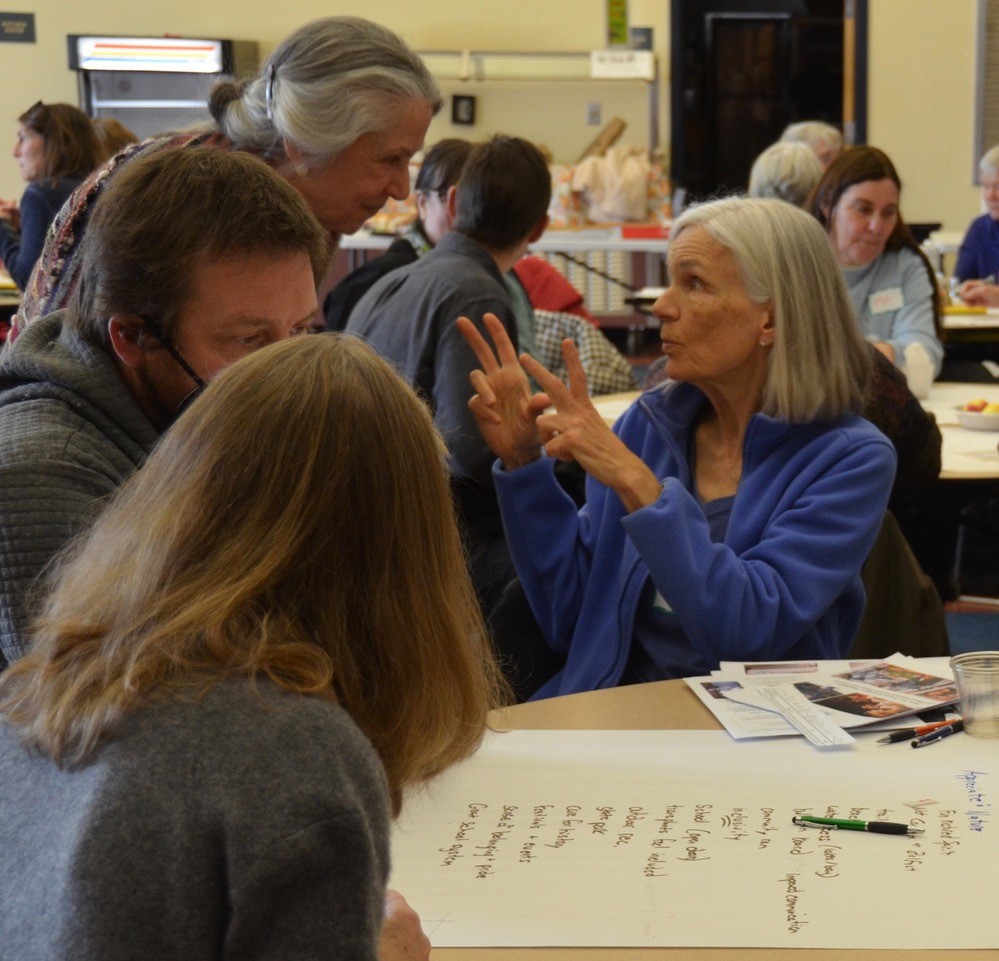 "What's going to be here in 40 years?" asked one woman.
There was a fear that the community would put their energy into the Heart & Soul process and produce an updated comp plan, only to find that it would be "shelved."
That is Susan's concern, as well. She looks forward to the stewardship team that is to emerge after a plan is approved, which ensures that the collective wisdom of the community identified during the Heart & Soul process continues to guide future town planning.
"I'm hoping that one of the outcomes is more people getting involved on municipal committees," she said.
"The process is going to reveal information that the town can use and move forward," said Lincolnville Town Administrator David Kinney, who has been at the town's helm for 20 years. "Separately from this, on parallel tracks, the Comprehensive Plan Committee is doing data gathering to update some of the information in the existing plan, because you have to know where you are before you figure out where you are going."
"This," he said, nodding to the residents chatting around the tables, "is going to help the comprehensive plan effort in understanding where we want to go."
As Heart & Soul steering group leader, Lincolnville resident Cindy Dunham remarked in an announcement of Heart & Soul: "What I love about this process is that it's so positive. The focus is on identifying the areas of agreement among residents about what they hope Lincolnville can be like in the future, and then developing ideas for moving toward that future."
One woman, who is new to Lincolnville and had no intentions of speaking publicly, strode to the front of the room and said simply: "Everybody has the same concerns. Everybody loves their family, home, and community. We all care, and need to find things we can agree on. If we don't talk with each other, we can't change our minds and come to solutions for what our community needs for the future."
To learn more about the Heart and Soul process in Lincolnville, visit the dedicated Facebook page: Heart and Soul Lincolnville
Want to bring Community Heart & Soul to your town? Apply for a $10,000 Community Heart & Soul Seed Grant to get started. Learn more at: www.communityheartandsoul.org/seed-grants
---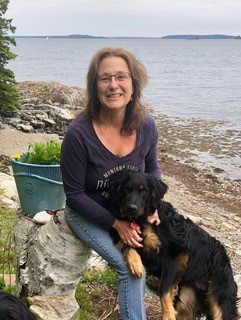 Lynda Clancy is editorial director of the Penobscot Bay Pilot, an online community hub that covers a large region of coastal Maine. The beauty and complexity of small towns have inspired her as a writer and photographer since the 1980s. An award-winning journalist, she serves on the Maine Press Association's Board of Directors, the Maine Legislature's Right To Know Advisory Committee, as well as local community nonprofits and municipal committees.