Focusing on the Future: From Aspirations to Actions in Galesburg, IL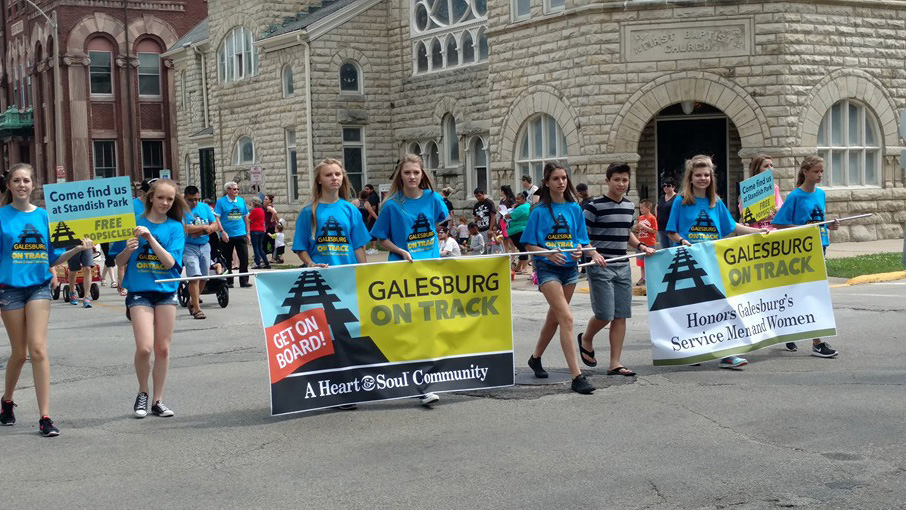 After nearly a year spent gathering input about what matters most to them, residents of Galesburg, Illinois, came together to brainstorm ways to turn aspirations into actions. More than 200 residents attended focus groups based on key themes that emerged as a result of deep and broad community engagement as a part of Galesburg on Track, the town's Community Heart & Soul project.
• History and cultural heritage
• Welcoming community
• Healthy business climate
• Education
• Town's image and appeal to residents and visitors
• Services and amenities including social services, faith organizations, proactive government, public safety departments, infrastructure, affordable housing and cost of living, healthcare, parks, lakes and open spaces
• Accessibility to shopping, dining, health care, the arts, employment and recreation, comprehensive transportation system
• Active community with things to do such as festivals and events, athletic opportunities and thriving downtown
The focus groups worked on solutions to community issues and actions related to the statements and placed them on a timeline—six months, one year, three years, five years and 10 years. Galesburg on Track's Leadership Team will soon sift through the ideas, see which ones residents expressed most in common, which ones would be the most viable for each time frame and create an Action Plan.
"We're probably going to have to do some parsing of what major action items would look like — what's something that would be 10 years out or five years out," said Deb Moreno, project coordinator for Galesburg on Track. "Let's say, for example, air conditioning in all the schools. That's going to necessitate a conversation to figure out how that could possibly happen — conversations with the superintendent, the (school) board, the principals. And then saying, 'Ok, is this something that can happen in five years, and if so, let's create some benchmarks and make sure we're hitting those benchmarks.'"
The Leadership Team will then present those ideas to the community so the public can prioritize the main ideas for an Action Plan.
"Part of the prioritization will be about what is important to people," Moreno said. "For some people, it's absolutely what Main Street looks like. For other people, it's getting to the doctor on a bus."
The focus groups inspired some attendees to accomplish short-term goals themselves. Café owner Walter McAllister attended a focus group centered on Galesburg's business climate and found that many small-business owners wanted to form a free group where they could discuss their mutual interests and concerns.
In response, McAllister created a Facebook page for the entrepreneurs, hoping it would provide an outlet for them to share their stories and a way to schedule in-person meetings. Not even a full month after the focus group, McAllister's page already had 25 members.
Other attendees heard ideas that they had not expected in the groups. Joel Estes served as a facilitator for the focus group on education, and he thought his group members might talk about test scores and data. Instead, they emphasized retaining quality teachers in the community and building personal relationships between students and teachers.
"Having meetings like this is unique; this doesn't happen everywhere," Estes said. "Having dialogue, talking about our issues and coming up with solutions, that's very healthy, and I think Heart & Soul has made an effort to value everyone's voices in the community."
The focus groups averaged about 30 to 50 participants per night.
"There are a few people who have been to almost every focus group, and I didn't expect that," Moreno said. "It's just terrific to see people come back, and know that they're listening and they care."
McAllister, who attended multiple focus groups, liked that the groups encouraged participation from all the attendees and that Galesburg on Track has engaged residents throughout its entire process.
"It gives everybody a voice," McAllister said. "Everyone's coming in and speaking on an equal platform and all issues are being discussed, and I love that."
Image: Karrie Heartlein, member of the Galesburg on Track Leadership Team, guides a focus group on services and amenities on Nov. 9, 2017 in Galesburg, Illinois.
Rebecca Susmarski is a writer based in Galesburg, Illinois.