Civics, Civility, and Community—How to Get People Re-engaged Civilly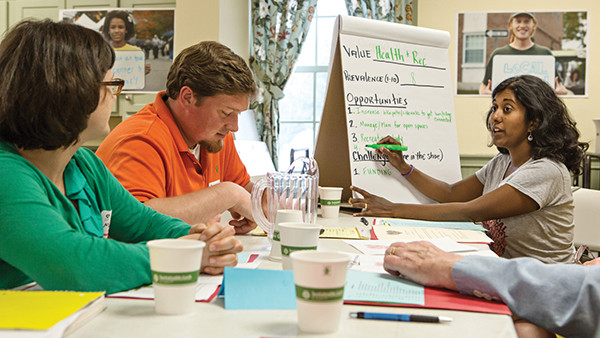 Our recent webinar explored the timely issue of how to get Americans talking to each other civilly and get them engaged in government—two vital ingredients to a healthy democracy. Our guests brought fresh perspectives and concrete recommendations for actions that can strengthen our communities. Here is a brief highlight of their remarks followed by a link to the 60-minute webinar recording.
Carolyn J. Lukensmeyer, Ph.D., executive director emerita, National Institute for Civil Discourse, offered compelling statistics about how Americans are affected by incivility in politics.
• 75% believe America is in a crisis.
• 83% say incivility leads to intolerance of free speech.
• 79% say incivility is leading to less political engagement.
• For the first time, the political climate registered as one of the highest causes of stress for Americans.
Lukensmeyer offered a hopeful message about how we can get beyond incivility.
"What we find is that when people step back and are not looking at their labels 'You voted for Trump. You voted for Hillary. I'm for the wall. You are against the wall.' If they get to know one another as people first, without exception they discover they have more in common than they disagree about," Lukensmeyer said.
Emma Humphries, Ph.D., chief education officer, iCivics, spoke about ways in which the non-profit is reinvigorating civic learning through interactive and engaging learning resources. She quoted Supreme Court Justice Sonia Sotomayor, an iCivics board member, about the connection between the decline of social studies in schools and the rise of partisanship and a decrease in civic participation.
iCivics is leading a coalition of 80 organizations to bring social studies into schools and make civics education more robust.
"When Ben Franklin left the constitutional convention, he was asked what he and the other framers had created, what they had wrought, and his famous answer was 'A republic madam, if you can keep it.' We need to work really hard to keep it," Humphries said.
And speaking of Ben Franklin, Julie Mashack, director of global networks & programs for the Belfer Center for Innovation & Social Impact, 92nd Street Y, enlightened the audience about an innovative program called Ben Franklin Circles. This format for community conversations started as a 92nd Street Y program and has spread to more than 300 communities across the country.
Through meeting and focusing conversation on what it means to live a good life and what it means to be a good citizen, community members are able to have conversations that steer away from hot button issues.
"People discover things they have in common and, in its most basic form, they practice the art of conversation face-to-face, learning to listen, hearing different perspectives and connecting to people they might not otherwise know," said Mashack.