A Town of Doers Works Together To Preserve Their Past and Plan Their Future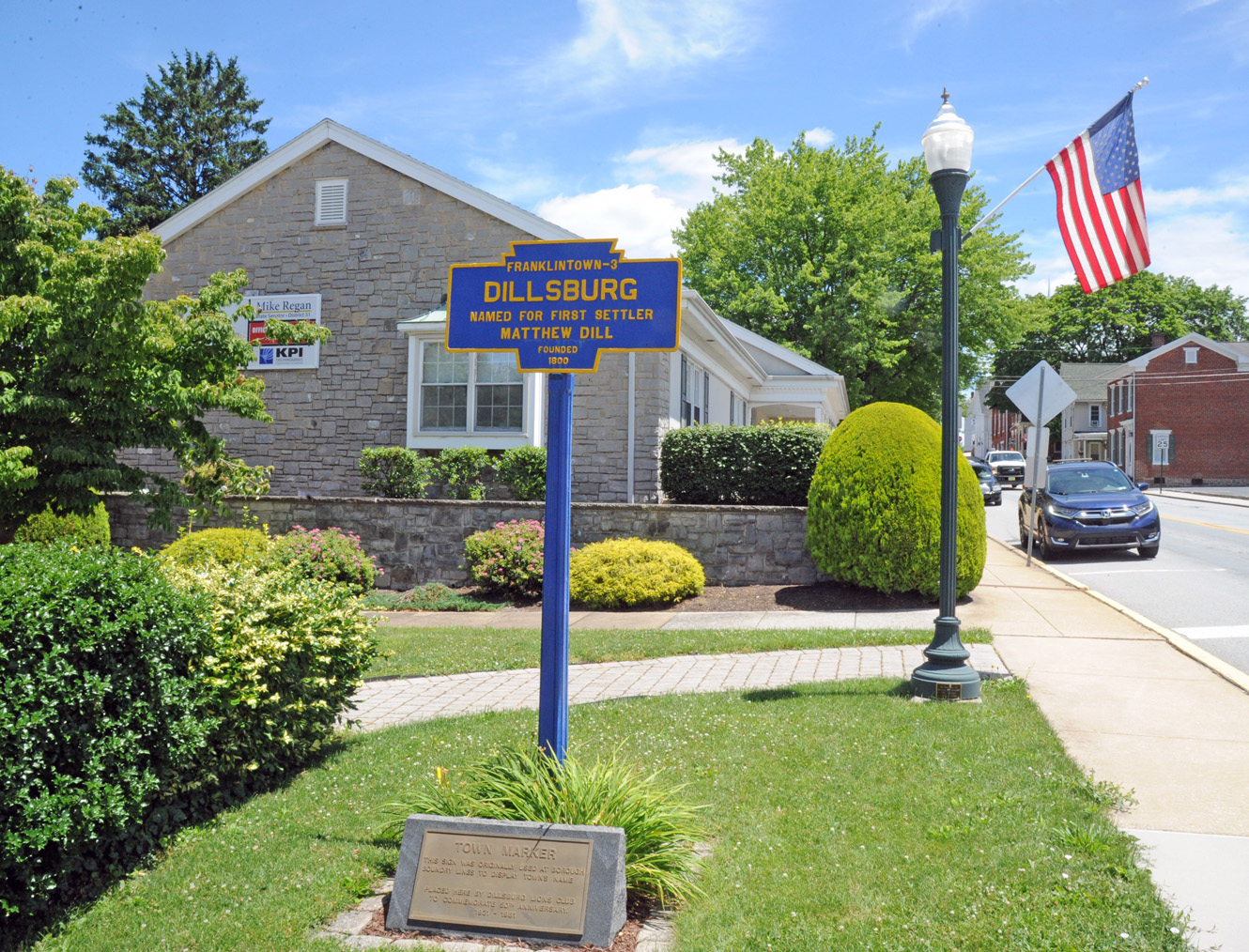 This article first appeared on the Our Towns Civic Foundation website on July 13, 2022, which you can see here.
Citizens and businesses in Dillsburg, Pennsylvania have adopted a mantra: If it's a community problem, it's their problem too.
---
Bill Wessels could have just scrapped the residual wood from a tree that got struck by lightning on his property in Dillsburg, Pennsylvania. Instead, the local businessowner decided to have the remains of the strike turned into a sculpture of a dill pickle. In any other town, the sculpture may have seemed out of place. But Wessels's sculpture became a symbol of pride for Dillsburg, standing off the side of the Harrisburg Pike.
Folk etymology would assume that Dillsburg was named for the dill pickle industry, and the sculpture naturally derived from that. But in fact the town was named for Matthew Dill, a Scottish-Irish pioneer who in 1740 settled the town, which sustained itself on a tavern and distillery.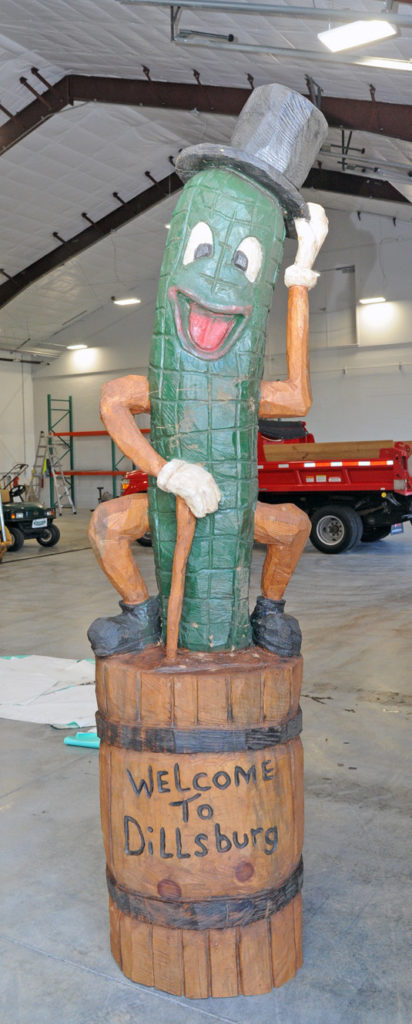 But with a name like Dillsburg, the town informally and perhaps inevitably adopted the pickle as its mascot. Every spring, this borough (its official designation in Pennsylvania, with its population just over 2,500) hosts Pickle Fest, and every New Year's Eve, the local fire house drops a pickle from one of its fire trucks at midnight.
Dillsburg's pickle sculpture, which is temporarily in the borough council building, is just one example that distinguishes the spirit of Dillsburg and its residents' shared sense of identity. It is a town of residents who think of themselves as citizens – of people who contribute their time and resources to fix problems they see, or to revitalize the town while intentionally preserving its distinct culture.
---
An identity of a town is more than its mascot. It is the places where people gather to share and make memories. In Dillsburg, one of those places is Haar's Drive-In. When news broke in 2019 that the property owner, the Dutch-owned regional grocery chain Giant Company, would be putting the local movie theater and a major attraction for the town up for sale, the community was understandably concerned about how the future owner would use the space.
In stepped local real estate developer and rental company owner Harry Fox Jr., who has told the local Patriot-News that he has been seeing movies there since 1959. Fox purchased the property to protect the theater, describing the decision as "emotional and preservational."
"Citizens and businesses in Dillsburg have adopted a mantra: If it's a community problem, it's my problem too," local resident Jim Burgess told me during my recent visit there. Burgess grew up in in nearby Mt. Holly Springs (which Deb Fallows wrote about here and here), and was a Carlisle Area School District teacher and principal for more than 25 years. He now lives in Dillsburg.
That spirit is practiced in all corners of Dillsburg, by citizens and business leaders and city authorities. "People don't ask for recognition. That's not why they're involved," John Richardson, Dillsburg's mayor and former head of the local borough council, told me. "The officials we have in office and people who are involved do what they do to make Dillsburg a little better."
Aside from holding leadership positions in government, Richardson volunteers his time to work for local initiatives, such as the annual Christmas tree-for-charity sale. "Every time I say, 'I'm going to take a step back,' someone comes to me with the next opportunity, and I get too excited to turn them down," he said.
Businesses pitch in, too. Katapult Engineering, a software development and consulting firm founded in Dillsburg in 1991, sees contributing to the community as critical to the mission of their business and attracting future talent. Isaac Tucker, the Director of Business Development at Katapult, is now in his mid 30s and is part of a younger generation that grew up in Dillsburg and has since returned to raise a family. He is a member on the local borough council. (Isaac's father, Paul Tucker, a woodworker, carpenter, and self-taught expert in Moorish fretwork, completed the design of the Amelia Givin Library in nearby Mt. Holly Springs.)
Katapult is reaching deeply into the community, offering engineering internships to high school students and teaching classes to middle school students about 3-D printing and design. Moving this community-centric business into the former library space in town made sense in following its mission, establish its presence, and give back to the community.
Lobar and Associates, a contracting company founded in 1986 that builds large civil engineering projects, and is owned by the Dillsburg-native Eichelberger family, donated and planted grass around the borough council building. The donation was part of an effort to beautify the town's governing institution. Business leaders at Lobar, Katapult, and other businesses in Dillsburg see their companies' long-term success as inextricably linked to the success of the whole town.
---
In 2019, Dillsburg's residents looked to the example of neighboring towns of Mt. Holly Springs and Carlisle to step up their revitalizing efforts. They adopted the Community Heart & Soul® (CH&S) process that those towns followed to engage more residents, agree on priorities for changes, and set up a plan for coordinated action. (CH&S is a partner and supporter of Our Towns.)
After collecting stories from all kinds of residents, the participants "look for trends to represent the perspectives of the community," Burgess, one of the leaders of the effort, told me. They will soon move to distilling those stories into a statement of the town's beliefs and recommendations for a set of actions that reflect those beliefs. Dillsburg's statement will revolve around ensuring Dillsburg maintains a vibrant, family-accessible, safe downtown district while emphasizing events, traditions, outdoor recreation, and the arts.
---
Dillsburg owes its transformation, from a drive-by town into a veritable destination, to the community leaders who have devoted their spare time to their community. Together, they've built a town that appreciates and knows its past – from pickles to drive-ins – and its assets, as it moves toward a vibrant future.