COMMUNITY HEART & SOUL® JOINS
RADICALLY RURAL FOR VIRTUAL ROUNDTABLE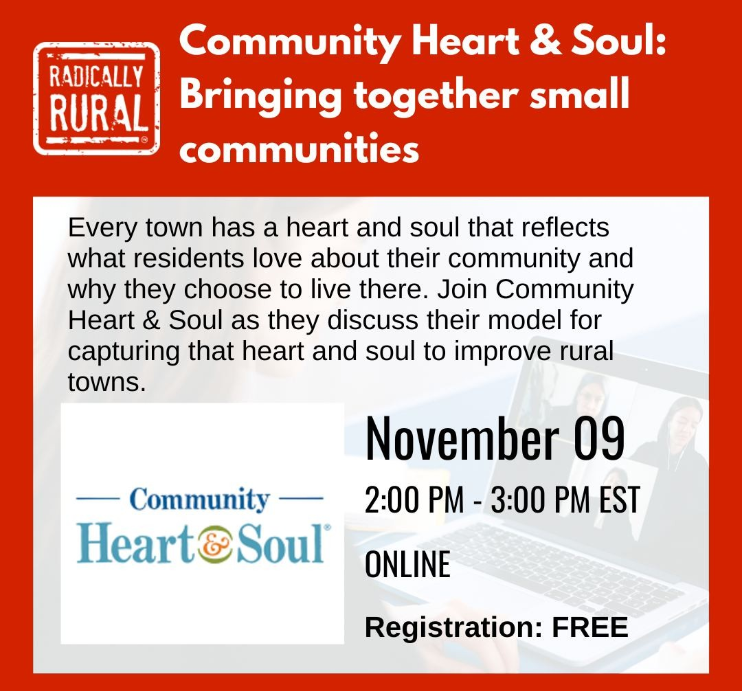 Shelburne, Vt. (November 3, 2022) — Community Heart & Soul and Keene, New Hampshire-based Radically Rural are collaborating to share success stories from small cities and towns across the United States. Radically Rural will host Community Heart & Soul staff and Certified Coaches for a free, virtual roundtable event on Wednesday, November 9, 2022 from 2-3 p.m. Eastern Standard Time.
CH&S is a resident-driven process that engages the entire population of a town in identifying what they love most about their community, what future they want for it, and how to achieve it. Currently, over 100 small cities and towns across the country practice the Community Heart & Soul process.
Radically Rural builds powerful networks of passionate, engaged, innovative people willing to share ideas and resources and take action to strengthen their rural communities across the country. The Virtual Roundtable series builds off the successful Radically Rural conference, a two-day summit held annually in Keene for shaping and sharing ideas in rural regions.
The November 9 event will feature Jane Lafleur, Senior Director of Market Development for Community Heart & Soul. She will be joined by four Heart & Soul Coaches: Judith Hull of Sugar Hill, New Hampshire; Jen Danifo of PA Humanities; Cat Ingraham of CEI Consultants in Northern Maine; and Michelle Wodtke Franks of Iowa West Foundation. The speakers have diverse and wide-ranging experiences working with small cities and towns across the country. They will share insights and examples from around the country about how small cities and towns can use the Community Heart & Soul model to involve everyone, focus on what matters most, and play the long game and will share the positive outcomes from this approach.
FREE registration: https://ticketelf.com/events/community-heart-soul-roundtable-11-9-2022.
About Community Heart & Soul
Community Heart & Soul®, a nonprofit organization, builds stronger, healthier, and more economically vibrant small cities and towns across the United States. In addition to promoting the Community Heart & Soul model, the organization trains and supports a nationwide network of Certified Community Heart & Soul Coaches who provide training and guidance to over 100 local communities. The organization is currently offering $10,000 Seed Grants to qualifying small cities and towns to start the Community Heart & Soul model.
www.communityheartandsoul.org
About Radically Rural
Radically Rural started in 2018 as a partnership between the Hannah Grimes Center for Entrepreneurship and The Keene Sentinel. Initially, the program focused on an annual two-day summit. Today, Radically Rural has moved beyond a summit, to year-round programming offered in the track areas showcased at the summit. And now it has its own full-time director. The mission, a simple one, is the same: Radically Rural builds sustainability and success for rural life and places by building a network that connects people to each other and to new ideas.
www.radicallyrural.org